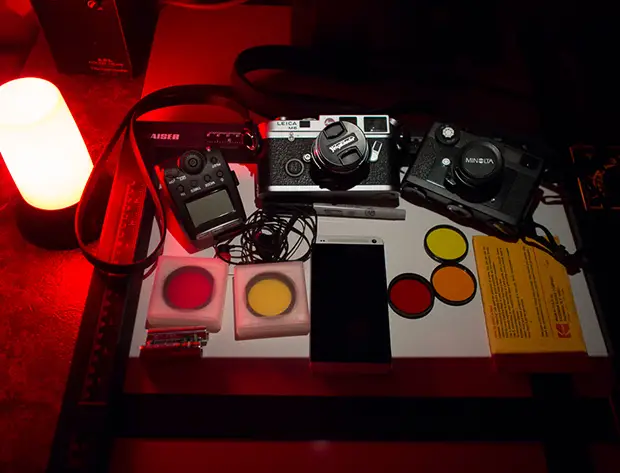 In your bag No: 693, Tristan Parker
No bag, again. But I will let it slide because this shot is truly epic. This is a darkroom lovers setup. Tristan has been on here before and he had a bag last time, so lets see how it has changed.

You featured a bag the other day that drove me to send a second bag shot in, and I will outline the reason for this below.
A buddy of mine who I know through Facebook and Street Photography sent a bag shot in. His name is Sean Breadsell, and the shot is here.
I have also sent a bag shot in the past, but have gone through some changes since then, most of the development has resulted in a swing back to film, and at least one enforced change that was due to malfunction and replacement. My first bag shot is here.
So the link between the two, and the reason for the decision to send another shot at this time. I recently purchased a Leica M6 (you know a little of the story as I almost got it from your lovely self, but one of the cameras that you had available sold while I was being indecisive). I actually managed to get a great deal on Sean's pride and joy that is pictured in his bag shot above. I thought that this was a great time to highlight the connection of some of the readers of your site, and also the connection between some of the Street Photography community of the world. Its cool what social media is doing to the world when its used for good rather than evil. I don't know if I totally agree with everything social media and I have blogged on that topic in a round about way here. But when you use social media for the purpose of connecting with like minded souls rather than posting images of your breakfast, I think that its true powers are yet to even be understood.
So how have I changed? I have turned back to film in a massive way. I have even gone as far as setting up a darkroom at home that is now fully functional after getting the last bit of the puzzle in the mail just yesterday. Ironic that the last piece of the puzzle was a light… A safetylight had to come from the UK cause I couldn't get any stock here that was less than $250… eBay is good for things sometimes I guess. I also got the enlarger off eBay for $71. It's a $3500 enlarger and still available new. I only just got this set up and am about to go away, so a single print is yet to wind its way from the room, but I will be locked in here when I get home no doubt.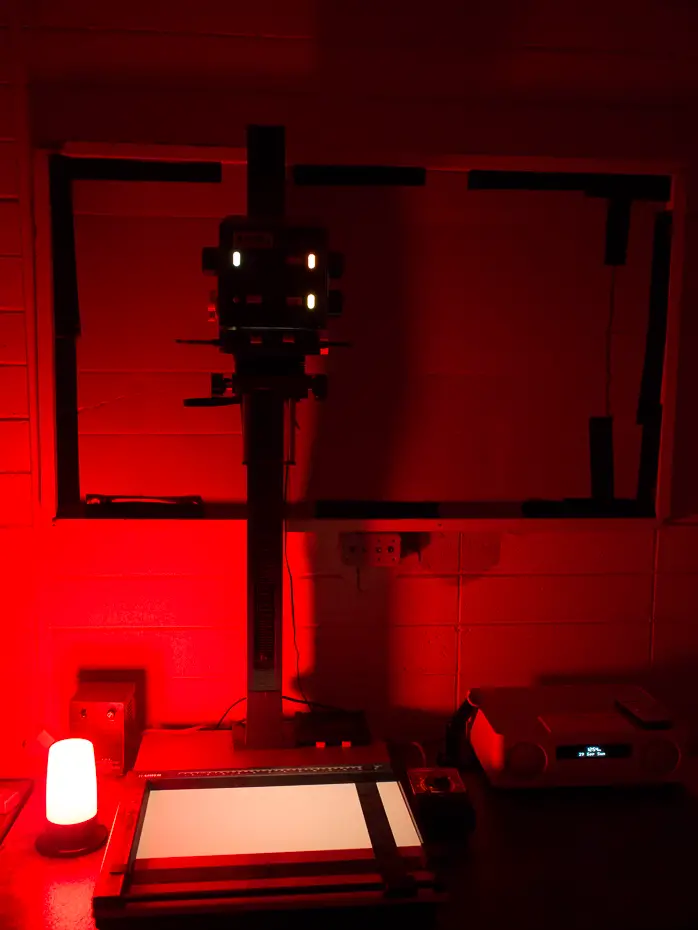 So my bag now… I actually have a bag these days. Last time I posted I was using a running backpack. I still think that it has its uses, but I not have a Timbuk2 Snoop in the medium size and it's a great little nag for carrying everything that I need to get around with. You cant see it in the shot as I thought I would shoot the bag shot in my new darkroom.
I still have the OMD, but I really only use it for happy snaps and taking photos of my bag to send to you. I don't tend to use it for SP at all, and have transitioned to just shooting film. You know what, my results are not as good as before in some ways, and in some ways they are better. However, there is a massive difference… I am happier and am enjoying the whole process of shooting more. I am enjoying all of the things that go hand in hand with film, and I am enjoying the process that is forcing me to slow the hell down and think about what I am doing rather than clicking away at a shutter on the OMD like its going out of fashion… I wanted to use a metaphor about a teenage boy with his first girlfriend, but I refrained.
I am about to leave for Thailand and this is what I am taking.
– Leica M6 Silver with Voigtlander 35 f1.4 classic. Love the camera as I start to bond with it. I think that I will eventually change the lens, likely for a Zeiss 35 f2
– Minolta CL with m-Rokkor 40 f2. This is a lovely little camera, but the viewfinder is the issue for me, not the size, but the magnification. I have one with a working metre, but the magnification of the viewfinder just doesn't work when you compare it to the M6
– Rocket blower
– Sharpie
– Lens cleaning paper
– Spare batteries for the speedlight
– Contrast filters for both cameras (different filter threads)
– Little speed light (cheap but does the trick)
– HTC one (you get all the iPhones on the site… This is SOOOO much better than an Apple!). I use it for taking notes, and I also have the best app that has a database of all the film development times from the manufacturer. Select film, developer, temp, and agitation and it adjusts the time. Best app ever.
I mentioned that I had to replace something due to malfunction. Its not in this image. I had a FA in my last bag shot. The shutter failed on it, and I replaced it with a f100. The f100 feels like a tank and is great to use functionally, but the FA was a better camera I think. There is something about the shape of the old Nikons that I really like. The f100 feels too new and just like a digital camera. I only have manual lenses so I changed the focus screen to the split screen from the FA with a little modification. I love the camera and the thing it does have over the FA is the AE-L, but the FA just felt better in the hand. I was just a bit iffy about buying another one as they are long in the tooth and likely to have similar issues with the circuits being so old.
Film… Currently have in my freezer (see below), 10 rolls of Fuji Across (it doesn't come in bulk but I pay the premium cause I love it that much). 3 loaders are stocked with Tri-x, Delta 100, and some cheap Maco Eagle AQS 400 film that's was used for speed cameras before they went digital, its $40 for 30m here in AUS… Colour, I don't shoot a lot, but have started to shoot a little more. Portra 400.
As always Bellamy I would like to say that the site is fantastic, and I really like what you're doing for the promotion of film. On that note I would like to give a shout out to a new film lab that has opened round the corner from my house… You hear right my film loving friends. A NEW FILM LAB…. Now that I am shooting some colour I needed to find somewhere, and Hillvale opened at just the right time. They are operating out of the back of their garage with a lab developing setup that I assume they picked up cheap from somewhere that a lab went out of business. If you are North Side of Melbourne you should use these guys, they are great guys and are promoting the use of film… Drop by on a Sunday afternoon and they are usually snacking on some tasty treats in the alley out the back. I am in no way affiliated with these guys, but I just like what they are doing so thought I would give them a yell here.
So that me. As always Bellamy, love your work and hope that one day I will be able to meet in person. I am sure that I will have a few more sporadic posts on the site in the meantime, as I ramble some words that I think might be of interest to your readers.
Cheers,
Tristan Parker
Thanks for sharing your gear again Tristan. That darkroom is fantastic. Well done there.
Check out the links and make sure you come and comment.
Keep them coming folks, we need more submissions, so get your bag on Japancamerahunter.com. Send me a hi resolution image of the bag (please make sure it is horizontal) and its contents, with some details about yourself and what you shoot. Oh and don't forget your contact details (twitter, flickr, tumbler et al). Send the bag shots here. Please understand that there is a long wait now as there is a backlog of submissions. Not all make the cut, so make sure yours is funny/interesting/quirky. And please make sure the shot is of good quality, as the ones that are not do not go up.
Cheers
Japancamerahunter