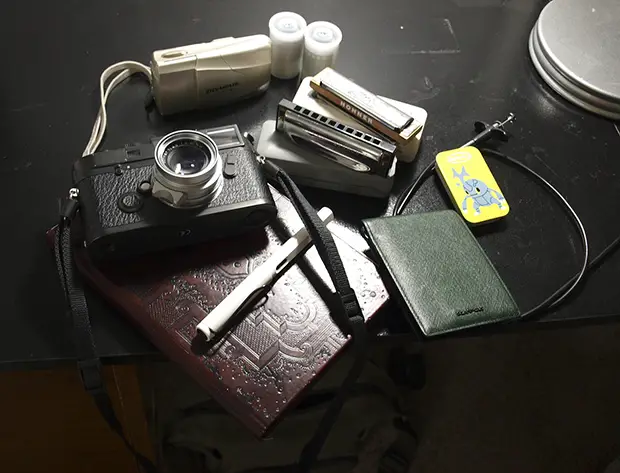 In your bag No: 682, Sonny Kwon
Sonny has a bag, but it is under the table. Still, it is there, so I can share this delightful little setup with you all. Come and check it out.

My name is Sonny and I am a Korean student currently living in US. I'm an amateur artist who does all kinds of art, but photography surely is a big part of who I am. I shoot street whenever I travel. Tokyo and Seoul are my favorite places to shoot.
I currently have two cameras. Had many more, but sold them all because I never carry more than one camera with me anyway when I'm out shooting. Changing lenses or bodies is distracting, as I am constantly reminded that my photos change depending on the gear. For instance, I used to carry two setups (a fisheye and a portrait lens) which destroyed any possibility of intimate relationships with my subjects.
The bag itself (under the desk in the picture) is a cheap bag I got for about $20 new, about five years ago. It has all the things I need: small pockets, dividers, comfy strap, water bottle slot, and even a waterproof covering. Beats those expensive bags any day when it comes to ruggedness. Here is what I usually carry inside:
1) Leica M6TTL 0.85 + Rollei 40/2.8 Sonnar:
My main setup. This baby replaced my Zeiss Ikon + 35/2 Biogon and Leica R8 + 50/2 Summicron about a year ago because of its smaller size and fully manual operation opposed to the R8 and a more substantial feel in my hands than the ZI. The 40/2.8 lens is compact and extremely sharp, and fast enough for most situations. I noticed that 40mm focal length feels just right when shooting street, so out with my 35/2 Biogon and 50/2 Summicron.
2) Olympus mju2 (Stylus Epic):
For backup. When I can, I bring my main workhorse, because I don't really trust the focusing system of P&S with my precious film. I usually take it with me when it's pouring down rain, or when I go to a hardcore rock show where I have to mosh.
3) 1 or 2 rolls of film. I'm a very prudent shooter who sometimes goes out searching for the right moment for hours and not press the shutter once, so having just one extra roll with me is more than enough. I usually shoot color 400 film, don't really care what it is.
4) Couple of Hohner Marine Band harmonicas, for some blues down a lonesome road. I love rock and classical music, but a man's still gotta love the blues.
5) Notebook and pen to scribble down any epiphanies. Photography is visual poetry; we should all appreciate literary poetry also.
6) Everything else: shutter release, wallet, phone (not pictured), and a case in which I carry mints or vitamins. I got it when I visited the Pokemon Center in Tokyo :p
You can see my work here: http://www.sonnykwon.portfoliobox.me/
Thanks for reading, and keep shooting, everyone.
I admire your hard work at a forefront of film photography, Bellamy :) Keep it up.
Sincerely,
Sonny
Classic cameras and harmonicas, what a lovely combo. Thanks for sharing, Sonny.
Check out the links and make sure you come and comment.
Keep them coming folks, we need more submissions, so get your bag on Japancamerahunter.com. Send me a hi resolution image of the bag (please make sure it is horizontal) and its contents, with some details about yourself and what you shoot. Oh and don't forget your contact details (twitter, flickr, tumbler et al). Send the bag shots here. Please understand that there is a long wait now as there is a backlog of submissions. Not all make the cut, so make sure yours is funny/interesting/quirky. And please make sure the shot is of good quality, as the ones that are not do not go up.
Cheers
Japancamerahunter