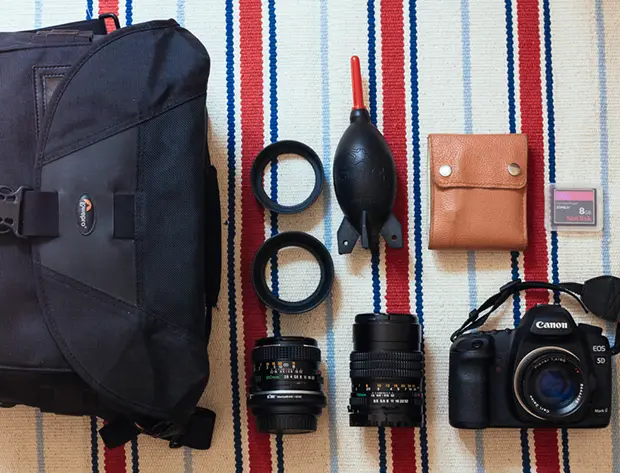 In your bag No: 658, Csaba Brindza
Wow, what a crazy few days. We have been from Europe to South America, through the states and now we are back in eastern Europe. Today we have a bag from Hungary, and a very interesting bag it is too. Check it out.

My name is Csaba Brindza from Budapest, Hungary. I'm a regular reader of the blog and now decided to share my gear.
I like shooting a lot of things including very different subjects.
Photographing music and photographing during my travelings are the closest to my heart for sure.
I'm mostly shooting with a digital body and all analog manual lenses. I've got several analog cameras (Mamiya M645, Nikon FM2, Lomos etc), but nowadays this is my daily setup:
Lowepro Stealth Reporter D300 AW: It's too big, looking for a replacement in the near future.
Canon 5DII – I like this camera as it gave me so much freedom with replacing the focusing screen. This way I can precisely focus with analog lenses and not restricted by the AF system. Raw files are superb.
Carl Zeiss Planar 50mm 1.4 (CY mount): It is my main lens with awesome colours. I prefer its drawing, bokeh and the small size.
Mamiya 80mm 2.8: It's from my Mamiya M645 gear used with a Mamiya Eos adapter. Colours are muted, but i really like its characteristics.
Mamiya 135mm 3.5: Another M645 lens, the focal length is too long for my liking, I rarely use this one, but it makes nice pictures.
Iphone 4S
Giotto's blower
Extra memory card
Additional lens hoods
Wallet
You can check out my photos here and there:
My website: http://www.csababrindza.hu
My blog: http://www.csababrindza.tumblr.com
Keep up the cool work!!!
Cheers,
Csaba
Thanks for sharing your bag with us Csaba, that is the first time I have seen Mamiya lenses used on an 5D. Very cool.
Check out the links and make sure you come and comment.
Keep them coming folks, we need more submissions, so get your bag on Japancamerahunter.com. Send me a hi resolution image of the bag (please make sure it is horizontal) and its contents, with some details about yourself and what you shoot. Oh and don't forget your contact details (twitter, flickr, tumbler et al). Send the bag shots here. Please understand that there is a long wait now as there is a backlog of submissions. Not all make the cut, so make sure yours is funny/interesting/quirky. And please make sure the shot is of good quality, as the ones that are not do not go up.
Cheers
Japancamerahunter