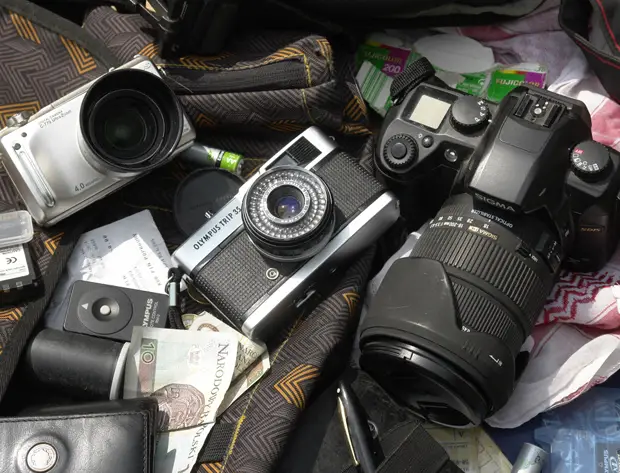 In your bag No: 633, Arek Pawalek
Arek shares with us his bag and his passion today. Some interesting cameras and stories behind their use. Come and check out this great bag from Poland.

For some time I'm following news from your site, not only about cameras.
I'm living mostly in Poland and currently I don't make living from taking pictures, but in old times of film photography I used to work as a photographer for newspaper. At this time I used Canon EOS 50, which a couple years ago was stolen from me together with other cameras (medium format Yashica, old Kodak etc).
Anyway I'm still big fan of photography and the same my wife. We love photography so much, that when it comes for buying new cameras we had to buy two the same cameras – Sigma's.
OK, now a few words about equipment I usually have in my bag. I'm not purist, as you can see, and usually I have with me Sigma SD15 with 18-200 lens, small Olympus C-770 UZ and Olympus Trip 35. Sometimes I carry Zorki 4 or Kiev 4 (which in fact is the pre-1945 Contax). I don't want to go too deep in history of the last one, but this is not a Russian copy of Contax, as many people think, but Contax made in Russia with new name, on Contax machinery. In 1945 Russians took production lines from Germany , but they say that they don't need the name. Both cameras are with superb 50 mm f2 Jupiter 8 lenses.
I love taking pictures with small Olympus Trip 35. Pictures are really great in sharpness, and the camera is always ready for use. Usually I have Fuji 200 color film loaded in or Ilford HP5. I used that film when I was working for newspaper and fell in love with it! I want to try XP2, as it is more and more difficult to develop B/W films, and XP2 can be developed in colour films processes.
I have two of those small, beautiful cameras and my wife have one more either, but she is rarely using it.
Other story is with Sigma SD15. We bought those cameras for their 3-layer sensor, which is build like old, good Kodak film. Camera is good, but kit lens which comes with it is disappointing. I can't use bigger F-stop than 8, as the focusing of the lens is not really great. We are going to change them soon, for APO 70-200 which is great lens for portraits and travel. But it is not a story about plans, but about my camera bag, so let's go back to the subject.
The last camera is Olympus C-770 UZ. Small camera, which I have for many years and I love to carry with me. It is not very fast camera, but for me good enough. I have that camera set for B/W pictures and 50 mm F8 stop when switching on. It makes the camera ready for use a little faster. I don't like to use LCD framing when taking pictures, and only time I find it useful for me is when I'm taking pictures under water. I like simplicity, so here is my choice of cameras – Sigma has only PASM modes, and Olympus is set for A-priority mode all the time, the same as Sigma.
The bag – or in fact bags, as I carry cameras in two smaller Lovepro bags, which I put in Reebok messenger bag. In that bag usually I have quite much other stuff – some batteries, notebook and pen, some money, ID and Driving Licence, the scarf, sometimes Panasonic Toughbook CF-18. The scarf I'm using for so many things – sometimes to put under camera, when taking pictures with long shutter times, sometimes for cleaning lenses (that is well used silk scarf, very smooth and not leaving any traces on lenses) or wrapping my Trip 35. Sometimes I even use it for protecting my neck or head! In the bags I usually have some spare films, batteries and memory cards. I'm not very organized person, so the picture of the bag is just like me, with everything (almost) I found in the bag today, including receipt for my prepaid mobile and bill from the petrol station.
I like to take pictures of almost everything and everywhere!
A couple of sites, where I download pictures, but only those from digital cameras, as I have to scan films yet:
http://www.flickr.com/photos/areksd15
http://picasaweb.google.com/arekpawelek
So that's all (for the moment) from PL :)
Greets!
Arek
Los wybiera sobie czlowieka w kolysce…
If you don't live on the edge, you are taking too much space…
Thanks for sharing your bag with us Arek. A lovely story of a shared passion. And the quote is great too.
Check out the links and make sure you come and comment.
Keep them coming folks, we need more submissions, so get your bag on Japancamerahunter.com. Send me a hi resolution image of the bag (please make sure it is horizontal) and its contents, with some details about yourself and what you shoot. Oh and don't forget your contact details (twitter, flickr, tumbler et al). Send the bag shots here. Please understand that there is a long wait now as there is a backlog of submissions. Not all make the cut, so make sure yours is funny/interesting/quirky. And please make sure the shot is of good quality, as the ones that are not do not go up.
Cheers
Japancamerahunter