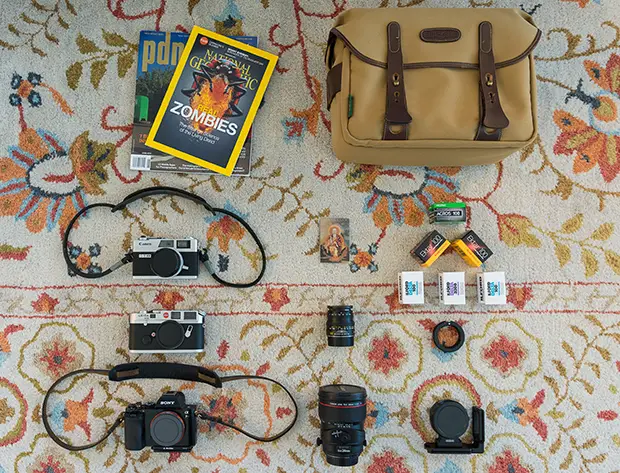 In your bag 1085, Kyle Pozan
Kyle has a very well laid out bag. Classic and modern gear all in one neat package. Check it out.

My name is Kyle and I am a 28-year-old attorney based in Chicago. In my free time, I shoot photos—lots of photos. My photographic style is still somewhat all over the place, even after 7 years of consistent shooting. In the past few years, however, I have begun to focus on architectural and street photography. I sell a few photos every month, both digitally through Getty Images and prints to local interior designers.
Occasionally, although not often enough, I contribute to a local photography blog (http://outofchicago.com), which is a great way for me to stay in touch with photographers in my community.
More often than not, I shoot alone.  I do shoot quite a bit of architectural photos with one of my best friends, and will go out hunting for great street shots with my uncle, a Hollywood movie producer, when he is in town.  He is the person who I credit for introducing me to photography.  My wife also enjoys photography (she shoots with the underrated Nikon D5200 and the Sigma 17-50mm f/2.8) and will join me during the warmer months.  She thinks I am crazy when I go out shooting in Chicago during the winter, and heck, maybe I am crazy—it can be quite cold here!
I am not aligned to any particular camera brand.  My first few DSLRs were Canon.  In 2009, I switched to the Nikon D700, which is quite possibly my favorite DSLR of all time.  I stayed with Nikon until about 6 months ago when I sold my D800 and my Nikon gear for the Sony A7r.
Now, about my camera bag . . .
The Bag
The bag itself is a Billingham.  My wife says it looks like a diaper bag.  She's not wrong.  I like it, but I only use it on the weekends.  During the week, whichever camera I bring with me that day lives in my briefcase.
The Cameras
About three years ago, when I was still shooting the Nikon D700, I picked up the Canon Canonet QL17 G-III pictured on the left at the top.  It is a nifty little fixed-lens film camera with a surprisingly sharp 40mm f/1.7 lens.  It can be a bit crude in terms of its operation, but it is fun to shoot with and the price is right.  My experiences with film cameras prior to the Canonet were limited to Kodak disposable cameras, and so I felt the need to give the medium a try.
Needless to say, I loved shooting with the camera so much that I purchased a Leica M6 a couple of years later.  A camera that needs no introduction, the M6 is a brilliant photographic tool.  I chose the M6 because of its built-in light meter.  I also liked that it doesn't require a battery to operate.  One of the articles that convinced me to purchase the M6 over the MP was Bellamy's piece on the camera back in 2012.
For my digital photos, I shoot with the Sony a7R, which is small and discrete compared to the D800 I was using a few months ago.  I probably could have gotten away with the a7, but it was difficult turning down 36 megapixels after shooting with the D800 for two years.  For my needs, the a7R is great.  Focus peeking and focus assist are two features that make focusing with manual lenses on the a7R a breeze.  Near the end of my time with the D800, I was becoming increasingly frustrated with how difficult it was to achieve critical focus in live view with the Zeiss 21mm.  This is one of the reasons I switched to the a7R.  Sony sensors pack a lot of detail, which comes in quite handy during post-processing.
The Lenses
I am not a fan of zooms.  Never really liked them.  They are larger than their fixed focal length brethren and are full of compromises.  The one exception is Nikon's surprisingly-sharp 16-35mm f/4 lens.  I loved that lens.  I enjoy the 20-25mm range for my architectural and wide-angle shots, which is right in the sweet spot for this lens.  I don't own any Sony FE lenses, although I have read the Sony/Zeiss 55mm is a superstar of a lens.
I currently own two lenses: a Leica Summicron 50mm f/2 and a Canon TS-E 24mm f/3.5L II.  The Summicron sees the most action as I use it on both the M6 and the a7R (with an adapter).  It produces photos that are sharp from corner to corner and have zero distortion.  As for the Canon TS-E 24mm, this is a lens I use with an adapter on the a7R.  A tilt-shift lens is an indispensable tool for my architectural photos and cityscapes.  This is the second version of the Canon TS-E 24mm, which has a larger image circle, less vignetting and less color fringing than its predecessor.  It is more versatile than the Zeiss 21mm it replaced and every bit as sharp.  I am looking to buy a second M-mount lens, either a 28mm or 35mm, but I will need to rent and test a few lenses before making a decision.
Everything Else
I have a Novoflex adapter, which allows me to use Leica lenses on the a7R, as well as a Metabones adapter for using the Canon TS-E 24mm on the a7R.  Both adapters are overpriced, but work well.
I often have the latest copy of National Geographic on hand, and I recently picked up a copy of PDN when I was browsing the magazine shelf of a small bookstore in the Northwoods of Wisconsin.  PDN appears to caters to professional photographers who shoot medium format cameras and people such as me who like to drool over photos shot by professional photographers on medium format cameras.  Take a look at a copy if you get the chance.
I shoot mostly Ilford Delta for my black-and-white work, but an article written by Ming Thein (http://blog.mingthein.com) about Fuji Acros led me to purchase a few rolls last week.  I like almost every color film, both negative and slide.  Kodak Ektar is great, as is Kodak Supra, Kodak Portra, Fuji Provia and Fuji Velvia.  I also use Kodak E100VS if I can get my hands on a roll.  In the future, I will be adding Ferrania film to the list as I recently contributed to its Kickstarter campaign—my first Kickstarter contribution (https://www.kickstarter.com/projects/filmferrania/100-more-years-of-analog-film).  I am interested to hear if Bellamy has an opinion on that one.
Last but not least is a laminated card I picked up outside of a monastery in Hong Kong.  I believe Buddha is on the front, but I am not certain.  The back is filled with Cantonese characters.
I hope you enjoyed looking at my bag and the gear that lives inside!  I don't post my work online as often as I should, but feel free to check me out on Instagram and Flickr.
Instagram (http://instagram.com/kylepozan)
Flickr (https://www.flickr.com/photos/[email protected])
Thanks,
KP
Thanks for sharing your bag with us, Kyle. As for the Ferrania, I was the first to break the news of the Kickstarter. They have my unwavering support.
Check out the links and make sure you come and comment.
Keep them coming folks, we need more submissions, so get your bag on Japancamerahunter.com. Send me a hi resolution image of the bag (please make sure it is horizontal) and its contents, with some details about yourself and what you shoot. Oh and don't forget your contact details (twitter, flickr, tumbler et al). Send the bag shots here. Please understand that there is a long wait now as there is a backlog of submissions. Not all make the cut, so make sure yours is funny/interesting/quirky. And please make sure the shot is of good quality, as the ones that are not do not go up.
Cheers
Japancamerahunter