In your bag 1080, Michael Rost
Michael shares with us a very well appointed bag. This one has the lot. Check it out.

Hi all,
My name is Michael Rost and I live in Germany. After seeing so many nice and interesting bags I thought it was time to share my bag with you.
In the past five or six years I tried a lot of different medium format cameras like Kiev's, Kowa's, Mamiya's, TLR Rollei's, Hasselblad etc. just to name a few because I was looking for a camera that would suit my needs as a street photographer. Sure, we all have different needs and point of views when selecting our tools.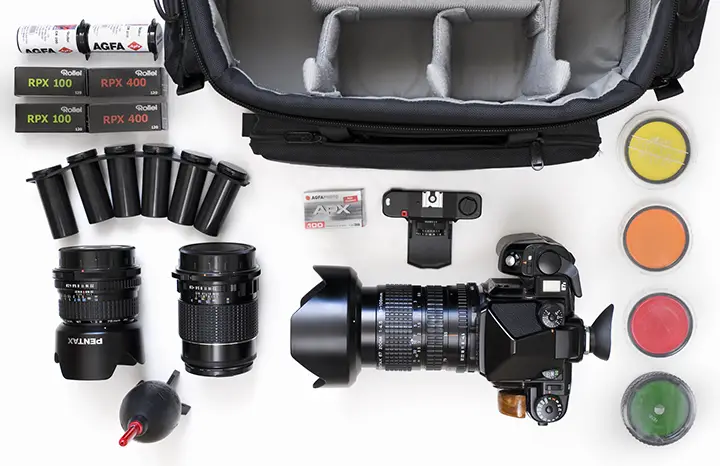 So after a long journey of buying, testing and selling cameras there was not much left for me to give a test drive. And then one day I remembered that big camera with this wooden hand grip. Always wanted one of those but never really looked into it in detail. So here we go and I bought my first Pentax 6×7 with a LS 90mm Takumar from Japan.
After a while I bought a Pentax 67 with the TTL prism. Not bad but not fast enough for street stuff. It took a bit to long to measure the light and to set the correct exposure time. So I ended up buying my first Pentax 67 II. This is my perfect medium format camera. It got all the gimmicks I need. Love the format and the design as well.
Then I started to try out all the different lenses from 55mm to 200mm. To cut the story short I ended up with the Pentax SMC 67 2.8 75mm, Pentax 6×7 2.8 SMC 165 and the Pentax 67 4.5 SMC 55-100mm. On it's way from Japan to Germany is the latest Pentax 67 SMC 55mm wide angle lens.
All other lenses performed very well too but they did not fit into my photography style.
So what you see in my bag is
Pentax 67 II with AE prism, De Camera Soft release knob and a D.I.Y grip for the left side.
With the second grip the camera is much more easy to handle while changing film.
Pentax SMC 67 75mm
Pentax 6×7 SMC 165
Pentax 67 SMC 55-100mm
Minox EL 35mm with Agfa APX film
The Minox is great and I use it for special snapshots.
Airblower
Yellow, Orange, Red and Green 67mm Filter for my Pentax 75mm.
Some B/W Rollei RPX 100 and RPX 400 ASA Film and Agfa CR 200 color slide film
Film containers to store film rolls
All in all the Lowe Pro MAGNUM AW bag weights 7kg with the equipment listed above. To carry my camera I use a CARRY SPEED FS Pro strap.
My webpages:
http://photography.urbane-fragmente.de/
Here you can read more about cameras and lenses I've tested over the past years.
http://urbane-fragmente.de/
Here you can see some of my work mainly about Graffiti, Lost Places, Street and People.
Facebook
https://www.facebook.com/michael.rost.73
Thanks for sharing your bag with us, Michael. That is a very impressive kit.
Check out the links and make sure you come and comment.
Keep them coming folks, we need more submissions, so get your bag on Japancamerahunter.com. Send me a hi resolution image of the bag (please make sure it is horizontal) and its contents, with some details about yourself and what you shoot. Oh and don't forget your contact details (twitter, flickr, tumbler et al). Send the bag shots here. Please understand that there is a long wait now as there is a backlog of submissions. Not all make the cut, so make sure yours is funny/interesting/quirky. And please make sure the shot is of good quality, as the ones that are not do not go up.
Cheers
Japancamerahunter