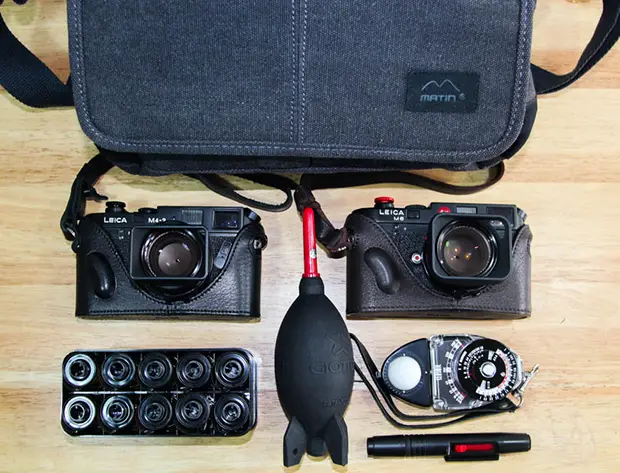 In your bag 1077, Edilberto Hilado
Edilberto gets it right. Simple setup, and there is actually a bag in the bag shot. Check it out.

Hello Bellamy, my name is  Edilberto Hilado  aka Analog Film Project.
I live in Los Angeles CA  and I do street photography during my spare time as a hobby. I started in photography with a DSLR like everyone else about 3 years ago but I've never experience in shooting film. So In the middle of 2013 I purchase an Olympus OM-1 with a 50mm 1.8, a roll of Kodak TRI X 400 and just fell in love with the whole process.
Just a few months ago I sold a few of my gear and saved up a little money to buy my first Leica M6 with Voigtlander 35mm 1.4 then soon after got a Leica M4-2 as a back up that I won on ebay for $400 which is a steal I think then soon after I got a Voigtlander 40mm 1.4 as a secondary lens.
Lately I been shooting color negative since Costco only charge $1.50 to have the film process only then I just cut and scan it myself which save me a little bit of money. Well this is what I carry in my camera bag but I alternate between my Leica camera and lens and I don't take both.
– Leica M6 Non TTL Classic with Voigtlander 40mm 1.4
– Leica M4-2 with Voigtlander 35mm 1.4
– Sekonic L 28c Light Meter
– Lens Pen
– Giotto Lens Blower
– Bikkuri Case or Bukkake Case
– Matin Balade 200 Shoulder Bag
Contact
https://www.flickr.com/photos/analog_film_project/
Edilberto Hilado (@analog_film) | Twitter
Thanks for sharing your bag with us, Edilberto. I am going to kill Eric Kim for calling them bukkake cases.
Check out the links and please come and comment.
Keep them coming folks, we need more submissions, so get your bag on Japancamerahunter.com. Send me a hi resolution image of the bag (please make sure it is horizontal) and its contents, with some details about yourself and what you shoot. Oh and don't forget your contact details (twitter, flickr, tumbler et al). Send the bag shots here. Please understand that there is a long wait now as there is a backlog of submissions. Not all make the cut, so make sure yours is funny/interesting/quirky. And please make sure the shot is of good quality, as the ones that are not do not go up.
Cheers
Japancamerahunter