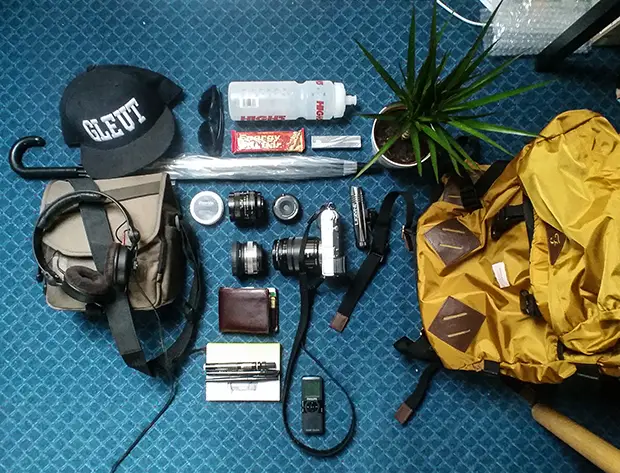 In your bag 1072, Julien Gallet
Apparently Julien carries a plant in his bag. No, really, he does. Check it out.

Bonjour,
I'm Julien, a french guy, I take pictures for a long time but lately I bought a lumix GX7.
More and more I taking pictures. As in all areas, the good tools make you want to practice more.
In my bag when I'm out:
+ Sun: my cap "Gleut" custom in new york with lids but also a pair of glasses.
+ Rain: my umbrella found in the street in tokyo, and it's very convenient because you see everything around you.
+ An energetic bar and a water bottle (I use it as practice bike …)
+ Camera:
– A Wanderlust Cameras Pinwide (funny but I do not use it every day …)
– GX7 lumix: great camera, I'm really happy with it, (and videos are exceptional)
– Lumix 20mm f / 1.7 II buy with my gx7, very nice quality, even with low light
– Lumix G Vario 14-140mm f / 3.5-5.6, simply perfect, from 14 to 140mm you can express anything you want, I used almost all the time during my last trip to Japan.
– Olympus 9mm f8, I regret this purchase, it's a cheap lens, but I take with me anyway …
– and one old "Konica Hexanon AR 50mm f / 1.8" with a lens adapter. The quality really surprised me !
+ My wallet
+ A small notepad and pencils (I draw too)
+ Lamp "lezyne super drive" (from my bike)
+ A dictaphone "Philips LFH0602 voice trace"
+ Sometimes a plant
+ All in my  "Farah"bag but I'll change it, because not very practical …
+ And finally, my samsung galaxy s5 and her "moment lens" with which I took the photo
Thank you for the "in your bag" concept, it's a great idea and for each bag a discovery.
If you want to check out my work or send me a message:
+ Before I used more my flickr account : https://www.flickr.com/photos/[email protected]/sets/
+ Now I look a little closer to 500px, I find this website more interactive : https://500px.com/juliengallet
Thank you Bellamy,
Julien Gallet
Thanks for sharing your bag with us, Julien. I cannot get over the plant.
Check out the links and make sure you come and comment.
Keep them coming folks, we need more submissions, so get your bag on Japancamerahunter.com. Send me a hi resolution image of the bag (please make sure it is horizontal) and its contents, with some details about yourself and what you shoot. Oh and don't forget your contact details (twitter, flickr, tumbler et al). Send the bag shots here. Please understand that there is a long wait now as there is a backlog of submissions. Not all make the cut, so make sure yours is funny/interesting/quirky. And please make sure the shot is of good quality, as the ones that are not do not go up.
Cheers
Japancamerahunter