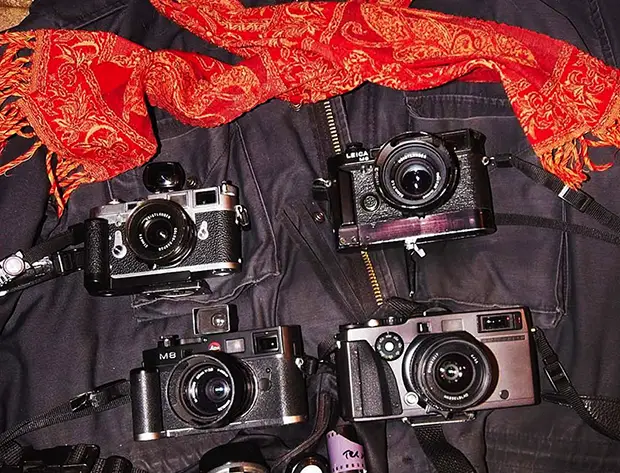 In your bag 1068, Jukka Vatanen
Jukka is a big time repeat offender. This is the 4th time he has been on the site! No bag, just shoulders and pockets full of gear. Check it out.

I once more submit you a new "camera bag". well, it is not really a bag, but my old alpha Industries army coat that has been waterproofed and has huge pockets. besides, I have lost weight so the leicas easily fit under the coat and the Xpan I carry on my shoulder. The canon 50mm1,2 that I use for portraits (occasionally) is in a hip bag with a few rolls of TRI-X. I don`t use a meter. If in doubt, I take a reading from my hand with the X-pan.
The stuff:   M3/4 (modified with a modern M4 finder) + Voigt 21mm:4  then my M6 with T&T rapidwinder and Voigt 35mm:1,4   The M8 is with a minolta 28mm:2,8 that is 35mm in the crop sensor and a leica 35mm auxliary finder ( very easy to see and use) last but not least is the fantastic hasselblad X-pan with a 40mm wide angle (same angle as 21mm in a 24×36 frame)
best regards
jukka vatanen
Finland
( my website www.jukkavatanen.fi )
Thanks for being so prolific on this site, Jukka. It is always a pleasure to see your gear.
Check out the links and make sure you come and comment.
Keep them coming folks, we need more submissions, so get your bag on Japancamerahunter.com. Send me a hi resolution image of the bag (please make sure it is horizontal) and its contents, with some details about yourself and what you shoot. Oh and don't forget your contact details (twitter, flickr, tumbler et al). Send the bag shots here. Please understand that there is a long wait now as there is a backlog of submissions. Not all make the cut, so make sure yours is funny/interesting/quirky. And please make sure the shot is of good quality, as the ones that are not do not go up.
Cheers
Japancamerahunter