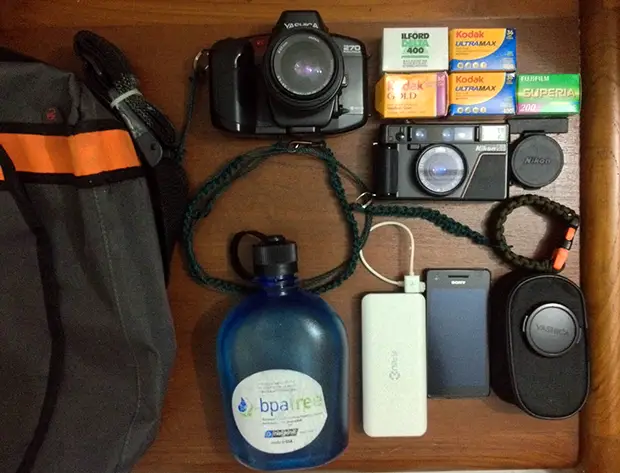 In your bag 1065, Lemuel Koh
Lemuel has a couple of sweet Japanese classics in his bag. Check it out.

I'm Lemuel from the lil island nation of Singapore. I am 19 and currently doing my final semester as a Biomedical Engineering Diploma Student in a local polytechnic. I only took up photography this July as I was intrigued by the art of photography and what made photos so attractive. After 2-3 months of being a non-conventional smartphone shooter, I decided to take my dad's cameras from the dry box and plug some film in. Got hooked on film photography ever since….though it's not very long ago. I've been browsing through this section to see the kinds of gear featured so it'll be rad to be on.
I love doing street photography because of it's candid nature, fire away after spotting the context and composition. It's something that I can't resist shooting. I prefer to use the Nikon L35AF point-and-shoot because it's got a pretty fast auto-focus and has a stealth winding feature- I just need to continue holding the shutter after the shot's been taken, walk away and release it for the camera to advance the film, which is nuts noisy.
Bag is a brand-less messenger I got 5 years ago and it still holds up well. Wasn't keen to buy a nice sling so I came up with the sling and adapted wrist strap. Looks more covert too.
My bag contains:
Dad's 1991 Kyocera/Yashica 270 AF with DIY single point sling and UV filter
Dad's 1983 Nikon L35AF with adapted wrist strap and skylight 1B filter
Illford Delta 400 B&W
2x Kodak Ultramax 400
Kodak Gold 200
Fujifilm Superia 200
Water bottle (I tend to drink lots of water)
Sony Xperia V and portable charger.
Small case that carries spare film, batteries and a clobbered together first aid kit.
I'm still experimenting on the different types of films. For now, it seems like the Gold 200 gives a nice saturation.
You can check my shots out on Instagram: @lemmythelemming.
Cheers mate,
Lemuel
Thanks for sharing your bag with us, Lemuel. Shame you didn't put any links though.
Please make sure you come and comment.
Keep them coming folks, we need more submissions, so get your bag on Japancamerahunter.com. Send me a hi resolution image of the bag (please make sure it is horizontal) and its contents, with some details about yourself and what you shoot. Oh and don't forget your contact details (twitter, flickr, tumbler et al). Send the bag shots here. Please understand that there is a long wait now as there is a backlog of submissions. Not all make the cut, so make sure yours is funny/interesting/quirky. And please make sure the shot is of good quality, as the ones that are not do not go up.
Cheers
Japancamerahunter