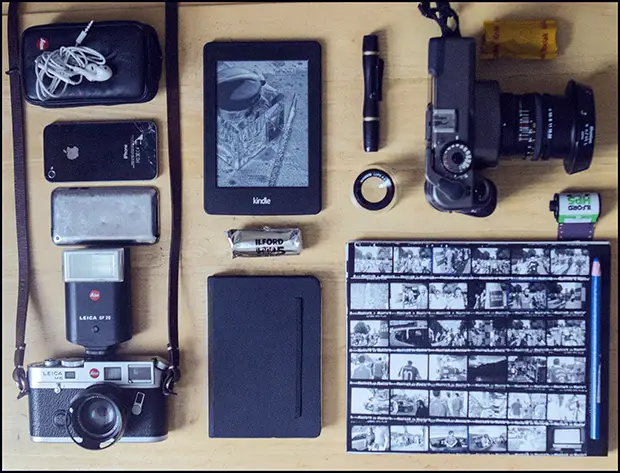 In your bag 1062, Jānis Leipa
We missed a day as I was rather poorly, but I am trying to get back on it again. And thanks to Jānis we have a great Latvian bag, by way of Ireland. Check it out.

My name is Jānis, I'm Latvian guy currently studying photography in Ireland. I have been shooting for about 3 years now. I'm in love with film photography! I Going on a few day trip with my photography class to small island on the south-west of Ireland with population of over 100 people. Was packing my bag and decided to share with you guys!
– Leica M6 TTL (Absolutely love this camera! Would recommend it to everyone who feels serious about film photography)
– Voigtlander 35mm f1.4 lens
– Mamiya 7 (Just bought it recently, very excited to get into medium format!)
– Mamiya 65mm f4 lens
– Kindle Paperwhite (Absolutely vital!)
– Leica SF20 Flash (Small bag from Leica Mini, that I use to store my flash in.)
– Kodak Portra 400 120 film
– Kodak Portra 400 35 film
– Ilford HP5+ 120 film
– Ilford HP5 35 film
+ other bits like Lenspen, iPhone 4S, iPod, earphones and Kaiser lupe and contact sheets I need to go trough on evenings!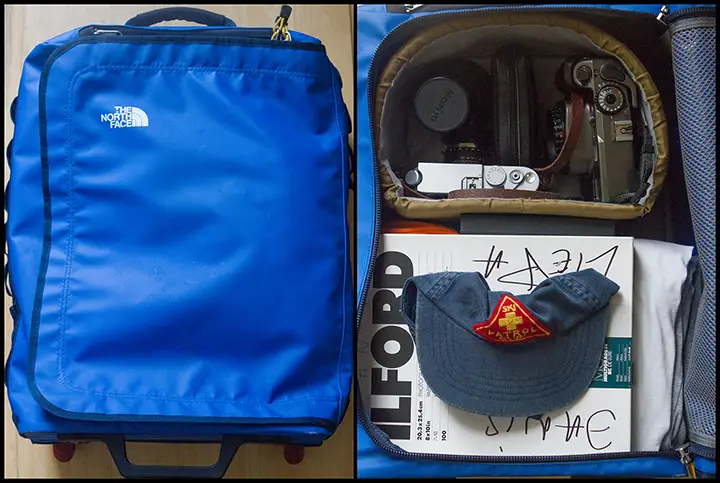 Oh yeah, and the bag itself is North Face Wheeled Luggage! Will submit my everyday bag shot after few months hopefully!
I will soon start sharing my work with the world, look here!
Facebook https://www.facebook.com/pages/j%C3%A4nis-liepa-photography/830586763640469
Flickr https://www.flickr.com/photos/liepaj/
Instagram http://instagram.com/liepassatumst
Twitter https://twitter.com/jaanisliepa
One love!
Jänis Liepa
Thanks for sharing your bag with us, Jänis. Nice to see a photography student shooting film.
Check out the links and please make sure you come and comment.
Keep them coming folks, we need more submissions, so get your bag on Japancamerahunter.com. Send me a hi resolution image of the bag (please make sure it is horizontal) and its contents, with some details about yourself and what you shoot. Oh and don't forget your contact details (twitter, flickr, tumbler et al). Send the bag shots here. Please understand that there is a long wait now as there is a backlog of submissions. Not all make the cut, so make sure yours is funny/interesting/quirky. And please make sure the shot is of good quality, as the ones that are not do not go up.
Cheers
Japancamerahunter