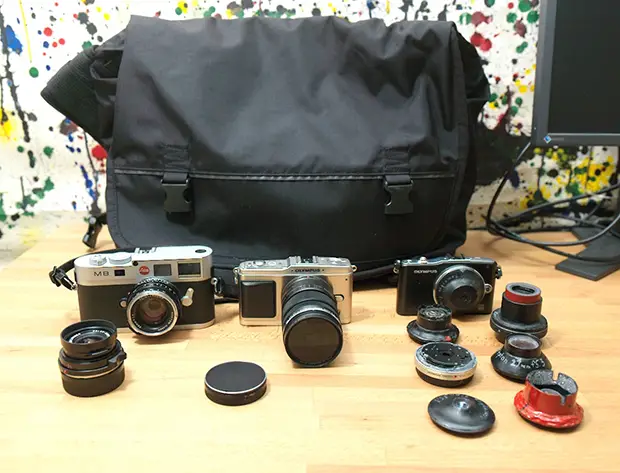 In your bag 1057, Kryštof Korč
Third time is a charm for Kryštof. This time he has some more of those crazy homemade lenses to show us too. Check it out.

Hi Bellamy, and cheers everyone!
I hoped that my last bag here was my final, but fortunately, I have very good attitude towards my G.A.S. I just feed it as much as possible and it still doesnt have enough.
I transferred fully to digital, just in large format I stick with film, because there is no such sensor. Right now Iam building ULF camera with reproduction lens, made for x-ray film, with negatives up to 1 meter wide. I will surely post some pics of it when its done.
But about the bags, I didnt want to show everything, like the flashes, triggers, flashmeters and so on, so I just took two quick snaps of lenses and cameras.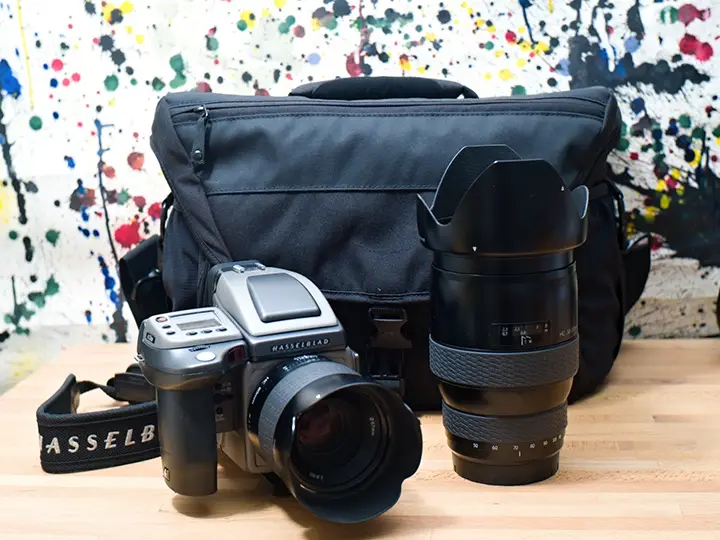 The first one is my workhorse, Hasselblad H3DII with two "kit" leses. They are the most basic ones, but both amazing, as the camera itself. I always wanted a digital MF and this is a dream come true. The most important thing is, that everything works on this camera, meaning the whole interface, tethering, handling is just so purely great, that I don't want to see any DSLR in my hand again. There was just one issue, when buying it, there was a dirt beneath the IR filter, so I had to dismantle the back and clean it from inside. Worst hour in my life, but it went well.
Second is my daily bag, with three main cameras which I choose from. Leica M8 with Voigtlanders 35 and 21. Wonderful to work with and I just love the wideness of light spectrum it captures. I dont know about a better digital camera for BW.
In the middle sits wide spectrum converted Olympus E-P1. I have IR pass and UV pass filters for it. Its fun to take shots in light normally invisible to all the other photographers.
Last one is also little nerdy, normal Olympus E-PM1, but with home made lenses. I call them Konceptons, already made 13 of them and still making more. Each is different in a way and its basically digital lomography. Iam thinking about selling them at some point, maybe when I will have too many of them. Actually these are the only photographs, which I have on the net so far, maybe check them out:
https://www.flickr.com/photos/[email protected]/
Thanks for visit and thanks for featuring me Bellamy !!
Have a good one all of you!
Thanks for coming back, Kryštof. You are a brave man, taking apart a digital Hassy.
Check out the links and make sure you come and comment.
Keep them coming folks, we need more submissions, so get your bag on Japancamerahunter.com. Send me a hi resolution image of the bag (please make sure it is horizontal) and its contents, with some details about yourself and what you shoot. Oh and don't forget your contact details (twitter, flickr, tumbler et al). Send the bag shots here. Please understand that there is a long wait now as there is a backlog of submissions. Not all make the cut, so make sure yours is funny/interesting/quirky. And please make sure the shot is of good quality, as the ones that are not do not go up.
Cheers
Japancamerahunter