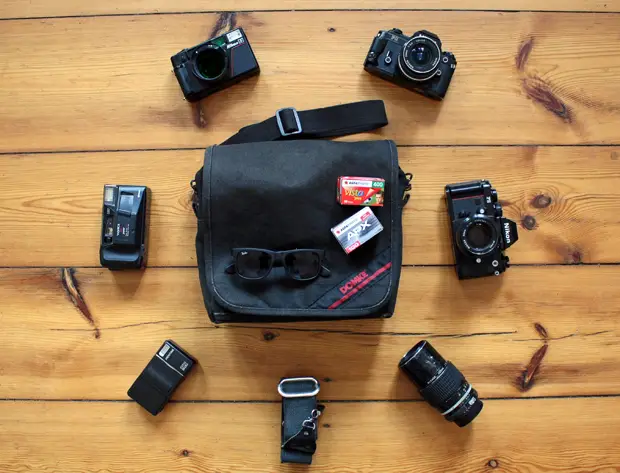 In your bag 1054, Tina Kino
Tina has a super all film bag for us, straight from Berlin. I love the layout too. Check it out.

Hello, this is Tina Kino from Berlin, Germany!
Here you see the gear I am using the most.
I usually go out with one camera in my hand, another over the shoulder, and the rest in the bag.
It's a Domke F-5XC "Large shoulder bag", I like it.
Cameras, starting at 7 o'clock, are Pentax Espio mini, a Yashica T3, Nikon L35AF (shown with some cheap but very nice hood, and a green filter), Nikon FG with the 20 / 3.5, and a F3 with the 50 / 1.4, and a 200 / 4, for good measure!
Yea, it's all 35mm.. I sort-of miss the days of lugging around a Mamiya 645 (or even a RB) and shooting medium format, but it does not really suit my way of work at the moment, also it's really getting very expensive over here.
Please take a look on my blog / website for an impression of what I'm doing.
Basically I walk around this mess of a city (a lot), and search for calm images.
The term "sidewalk still lifes" came to mind the other day, and that sort-of fits.
Blog:  tinakinodiarya.tumblr.com
Web:  www.tinakino.com (links to blog at the moment, but this will change end of the year)
Take care, and have fun!
Thanks for doing this site, Bellamy! It's appreciated!
Tina Kino
2014
Thanks for sharing your bag with us. I love the F5-xc, I think I might have to get another one.
Check out the links and make sure you come and comment.
Keep them coming folks, we need more submissions, so get your bag on Japancamerahunter.com. Send me a hi resolution image of the bag (please make sure it is horizontal) and its contents, with some details about yourself and what you shoot. Oh and don't forget your contact details (twitter, flickr, tumbler et al). Send the bag shots here. Please understand that there is a long wait now as there is a backlog of submissions. Not all make the cut, so make sure yours is funny/interesting/quirky. And please make sure the shot is of good quality, as the ones that are not do not go up.
Cheers
Japancamerahunter