In your bag 1049, Jingyu Li
Oooh a bag from behind the great firewall. Jingyu like to play with cameras, and has some really nice kit in his bag…wait, where is the damned bag?

I'm Jingyu Li, 35 years old mechanical engineer lives in Shenzhen City China. Play with camera for 14 years. I found this site by accident, I can't wait to go though all your posts.
My first camera is a Nikon APS SLR, shoot 10 rolls and then swap for an Olympus SP in camera fair. I really like the SP, but only use it for once, It was stolen this year.
My main interest defiantly not in shooting pictures, but admiring genius mechanical works inside the metal box. I spend hours and hours with broken cameras, try to understand how it works and try to fix them. Just like play with puzzles, I brought camera seems could be get fix, most time without the help of service manual, I dig in carefully to find the logic of function.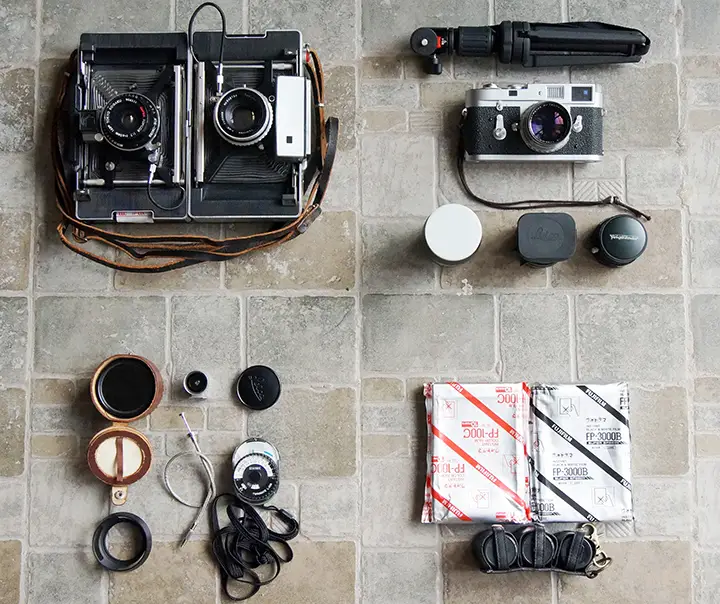 It's pure fun, nothing serious, just like a child observing the world. I see how camera evolve, their techniques, production skill etc. I use to play with Leica, before that I start with a broken Zorki, After take it apart and get it fixed, I think maybe should try for Leica, then I have the IIIF, 2 IIIGs, M2, M6, Bernard Leica truly classic. I give the IIIF to a friend and lost the others with 3 Voigtlanders, it's sad but not too sad because I already have fun with them. Now I only have a M2 with ILFORD 3200 film.
Polaroid is the "Apple" in 50s to 90s Dr. Land truly a genius. After they stop producing film for SX-70, I begin with peel-apart film. I brought 8 or 10 of Land bellow cameras and refit 6 of them with different lens, mostly Tominon 114mm. I always want a wide angle Land bellow camera, therefore I put on a Topcor 65mm(equivalent to 21mm in 35mm camera). Refit Mamiya Universal and Fuji GX680 is an other story about shift and tilt on peel-apart film, if there is a chance I will show my other bag.
1. Polaroid land refit with Topcor 65mm F7 (Manual focus)
2. Polaroid land refit with Tominon 114mm F4.5 (couple range finder)
3. Jingjie KT-200 tripod
4. M2 with zeiss 50mm F1.5 (amedeo adapter)
5. Leica M90/M35 Voigtlander 21
6. filters, hood, cap, view finder for 21
7. light meter
8. film
Thanks JCH and hope very one here can find fun with you camera. If there's any camera modify project going on please share with me, let's make more people happy.
Jingyu Li
Thanks for sharing your bag with us, Jingyu. Shame you couldn't share some links with us.
Make sure you come and comment.
Keep them coming folks, we need more submissions, so get your bag on Japancamerahunter.com. Send me a hi resolution image of the bag (please make sure it is horizontal) and its contents, with some details about yourself and what you shoot. Oh and don't forget your contact details (twitter, flickr, tumbler et al). Send the bag shots here. Please understand that there is a long wait now as there is a backlog of submissions. Not all make the cut, so make sure yours is funny/interesting/quirky. And please make sure the shot is of good quality, as the ones that are not do not go up.
Cheers
Japancamerahunter