In your bag 1041, Tyler Mastrilli
Tyler has a very interesting mix of old and new cameras in his bag. And he has a whole ton of film too. If only there was a way for him to store that neatly….

My name Is Tyler Mastrilli and I am a 25 year old photographer on a teachers budget which causes me to always have my eyes open for a good deal. I am a fulltime teacher for students on the Autism spectrum as well as a student at my local university. I am going to school for Interactive Media but my real passion is street photography. Enough about me let me tell you about what I carry in my bag.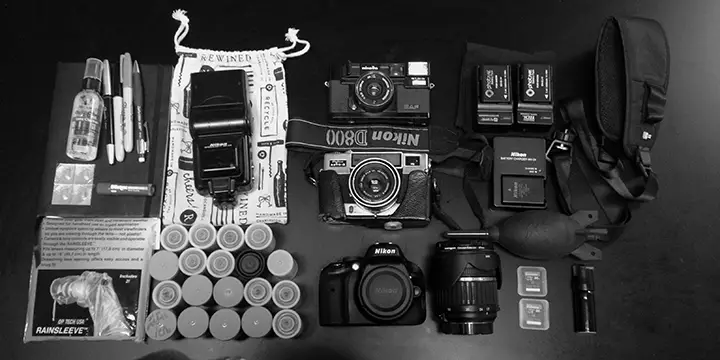 The bag first of all is a medium Timbuk2 messenger bag with an old Nikon bag cut up and modified to be used as an insert.
Fujica Auto M35-This was my first film rangefinder and I love it. I got it for 15 bucks off of eBay and have had no issues at all with it.
Minolta Himatic Af- This is a recent purchase that is growing on me. Its fully automatic which takes some of the fun out of shooting but I love it for getting that quick shot when there isn't anytime to focus.
Nikon d5100- This was my first digital slr and I have to say it has paid for its self many times over. I use it primarily for paying gigs but I still take it out every once in a while for some street photography. I do plan on switching to mirrorless system in the near future though!!!!
Tamron 17-50 2.8- This lens is great it covers all of the area I need and it is pretty fast especially considering how much it cost compared to the Nikon version.
Nikon sb24- I love this flash! Its was super cheap and works great and isn't a battery hog. I have to use it in manual mode on my camera but I like it because it slows me down a little and makes me actually think about how I am going to achieve my shot.
Film- I carry lots of film that is mostly cheap $1 expired color rolls that I get from my local shop. I also have a stash of Kodak BW400CN that I love to use and my local shop sells it for $4 a roll, which is a steal considering what it goes for on eBay.
The rest- A moleskin for my notes and sketches, assorted writing utensils, Benadryl incase I get stung by a bee, Blistex, lens cleaning solution, cheap rain cover, bag for flash that came from a wine scented candle that has permanently left a great scent on the bag, D800 strap that was given to me for my Fujica, lens cleaning cloth, 3 batteries, 2 16gb sd cards, nock off back rapid strap, rocket blower, and last of not least mace some people in Columbus have gotten a little confrontational about getting there picture taken so I just carry this with me to be on the safe side it has never ben used though.
https://www.facebook.com/newviewmediaproductions
Thanks for sharing your bag with us Tyler. Nice to see a Hi-matic being shown.
Check out the link and make sure you come and comment.
Keep them coming folks, we need more submissions, so get your bag on Japancamerahunter.com. Send me a hi resolution image of the bag (please make sure it is horizontal, 720px across is optimal) and its contents, with some details about yourself and what you shoot. Oh and don't forget your contact details (twitter, flickr, tumbler et al). Send the bag shots here. Please understand that there is a long wait now as there is a backlog of submissions. Not all make the cut, so make sure yours is funny/interesting/quirky. And please make sure the shot is of good quality, as the ones that are not do not go up.
Cheers
Japancamerahunter