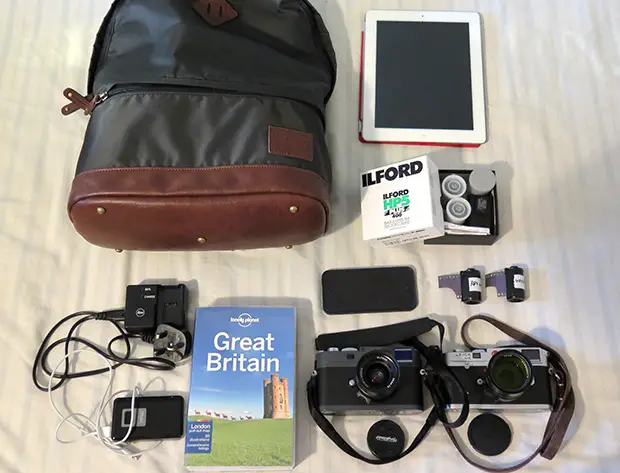 In your bag 1028, Anthony Cheung
Today we have a very straightforward Leica bag. Film and digital shooting the sights of Great Britain. Check it out.

My name is Anthony Cheung. I am from Hong Kong but now living in Oxford as I started my doctoral research here two years ago.
The first camera I have ever touched is a Ricoh point-and-shoot. I forgot the model as it was way back to my primary school days. I lost it during a school picnic and I was very upset because it belonged to my dad. After that, I did not come back to photography until the age of 16 when my dad bought me a Canon 350D – my first SLR as a birthday gift.
Since then I have owned many Canon and Nikon DSLR and Olympus mirrorless, and many lenses. However, the owning of a Nikon FM2 6 years ago completely changed my attitude towards photography. I started doing analog photography as well and I ended up here with this setup I usually take with me for street or short trips.
As a student in the UK, I like to spend my weekends for travelling different towns in the country. I love every place here, from the fascinating fast-pace London to the beautiful and romantic Bath, via the warm sunny seashore in Brighton, the remarkable sunset in Edinburgh, and of course, the historic and nostalgic architectures in Oxford.
I find it more comfortable to carry backpacks than shoulder bags or holsters especially when I have to bring at least two cameras and accessories. My bag is a Doughnut bag with a camera insert in the lower compartment.
Leica M6, Leica Summilux 50mm f/1.4 ASPH, Hoya MHC Y(K2) yellow filter – my most favourite combination for street photography. I never find 35mm suitable for my work at all – I am definitely a 50mm guy. I use my M6 exclusively for black and white.
Leica M-E, Voigtlander Ultron 28mm f/2 – I always mount my M-E with this wide angle lens for landscape, occasionally street photography at close distance. While I shoot colour photos on M-E most of the time, I can always convert the interesting ones into black and white using Lightroom 5.0 and Silver Efex Pro 2.0.
HP5 Plus bulk film box – this is my accessory box where I put my films, batteries, SD cards, lens filters, etc.
Films – I love the tone and grains of HP5 Plus. I always load films myself as it certainly lowers the cost for each roll of film.
Lonely Planet – I love reading Lonely Planet especially during long train transits.
iPhone and iPad – for web browsing, games, and entertainment.
Chargers and power bank – M-E drains power fast so bringing a charger along always helps. Same for iPhone and iPad.
Hope you enjoy what's in my bag. Please also feel free to visit my flickr: https://www.flickr.com/photos/anencephalyc/. Thanks for watching!
Cheers,
Anthony Cheung
Thanks for sharing your bag with us Anthony. Funny how you need to carry the charger for the M-E, is it really that bad for battery?
Check out the links and make sure you come and comment.
Keep them coming folks, we need more submissions, so get your bag on Japancamerahunter.com. Send me a hi resolution image of the bag (please make sure it is horizontal, 720px across is optimal) and its contents, with some details about yourself and what you shoot. Oh and don't forget your contact details (twitter, flickr, tumbler et al). Send the bag shots here. Please understand that there is a long wait now as there is a backlog of submissions. Not all make the cut, so make sure yours is funny/interesting/quirky. And please make sure the shot is of good quality, as the ones that are not do not go up.
Cheers
Japancamerahunter