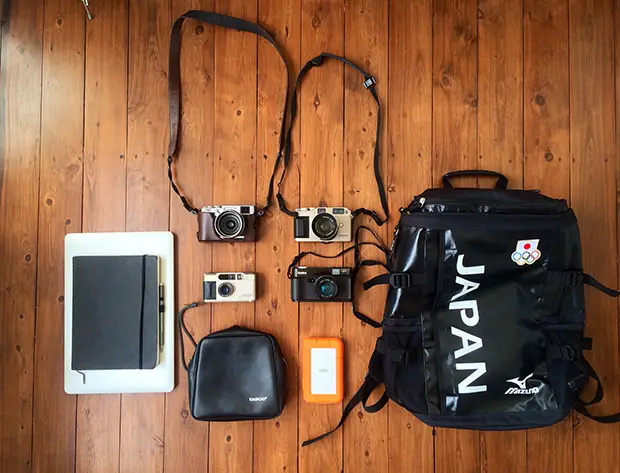 In your bag 1024, David Guest
David shares with us his lovely bag today. All the way from down under. Check it out.

Hi my name is David Guest. I live in Bondi, Australia and love photography!
I have had the photography bug for years, as a student I studied photography and really enjoyed the process of taking photos with the old Nikon FE's all the way through to the darkroom processing stage.
After traveling to Europe in 2009 I discovered film photography once more through "Lomography"! I was seduced by Diana and ended up taking 100s of photos on 120 with out a real clue with what I was doing! I was stoked with some of the results and decided to delve further into the film based world of photography. I enjoy travel, street and portrait photography and have a couple of projects I am currently working on which is getting me focused (no pun intended)!
I have had a Canon AE-1 and a Nikon FE-2 along the way but have been again seduced by the street shooting inspired point and shoot cameras that are in my picture.
I also like to shoot digital and I love my fujifilm x100s I have also had some nice results using my iPhone 5s!
I am currently looking at adding a 21mm lens to my quiver, at first I was sold on the Zeiss 21mm Biogon for my G1 but only this morning I discovered the Ricoh GR21 and I instantly fell in love!! Decisions…
My bag is a recent acquisition. I was lucky enough to go to the 2014 Youth Olympic Games in Nanjing, China as the coach of the Australian hockey team. The Japanese Coach John Sheehan is Australian (if the name didn't give it away) and was nice enough to swap for my Aussie back pack! I think I won because this bag is massive and fits a heap of stuff!! I also thought JCH might like it! Can swap for a Leica!?
My bag contains among other junk…
Contax G1 with Zeiss Planar 2/35
Konica Hexar AF 2/35
Contax T2 Zeiss Sonnar 2.8/38 (JCH)
FujiFilm x100s
MacBook Pro
Lacie HD
Moleskine diary and notebook
Tasco binocular case to hold cables, chewing gum and other bits and pieces.
Anyway, thanks for hearing from me. If you are ever in Bondi and want to catch up let me know!
Cheers,
David
Flickr – www.flickr.com/people/[email protected]/
Thanks for sharing your bag with us David. that is like a hall of fame of classic compacts.
Check out the links and make sure you come and comment.
Keep them coming folks, we need more submissions, so get your bag on Japancamerahunter.com. Send me a hi resolution image of the bag (please make sure it is horizontal, 720px across is optimal) and its contents, with some details about yourself and what you shoot. Oh and don't forget your contact details (twitter, flickr, tumbler et al). Send the bag shots here. Please understand that there is a long wait now as there is a backlog of submissions. Not all make the cut, so make sure yours is funny/interesting/quirky. And please make sure the shot is of good quality, as the ones that are not do not go up.
Cheers
Japancamerahunter