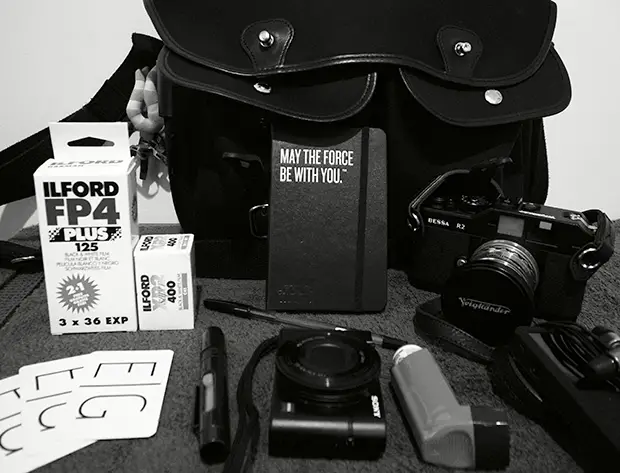 In your bag 1022, Erick Tomaliwan
Nice, Erick has a black and white, black and white bag for us. Check it out.

I always go to this section of the site as it always intrigues me what people carry around.
To start things off, my name is Erick Tomaliwan. I often categorise myself as a try-hard hobbyist and I won't explain why. This is probably the third time I changed the contents of my bag as I did a brand switch just a few weeks ago, however this is the setup I am most happy with and the product of my short experience. The picture is in black and white because I love black and white.
I chose the Billingham Hadley Pro because of its stealth look.
Also, Kai and Lok of DigitalRev uses them.
Camera
Bessa R2 + 50mm Voigtlander Nokton F/1.5 Chrome Edition.
Sony RX100
Why these two? I used to carry a Sony A7 + 55mm combo until I noticed that the shots I was taking more bad shots than good ones, quantity over quality. I decided to switch to film to discipline myself and just carry a compact if really needed. However, I still use the a7 whenever I go to a more serious shoot.
Films
Ilford FP4
Ilford XP2
I don't know how to develop films L so I have to ask people to develop it for me with a special care for the FP4.
Others
Business cards
Asthma inhaler
iBasso DX90 + DUNU DN-2000 (yes, I carry a mp3 player)
Moleskine Star Wars Edition (May the force be with my photography journey)
Lens pen
Note: equipment was taken with a Ricoh GRD IV. When it comes to street photography, Snap focus and zone focusing are kings.
Regards,
Erick
http://500px.com/edifygaming
ericktomaliwan.net
Thanks for sharing your bag with us Erick. Nice to hear about your switch to film.
Check out the links and make sure you come and comment.
Keep them coming folks, we need more submissions, so get your bag on Japancamerahunter.com. Send me a hi resolution image of the bag (please make sure it is horizontal, 720px across is optimal) and its contents, with some details about yourself and what you shoot. Oh and don't forget your contact details (twitter, flickr, tumbler et al). Send the bag shots here. Please understand that there is a long wait now as there is a backlog of submissions. Not all make the cut, so make sure yours is funny/interesting/quirky. And please make sure the shot is of good quality, as the ones that are not do not go up.
Cheers
Japancamerahunter