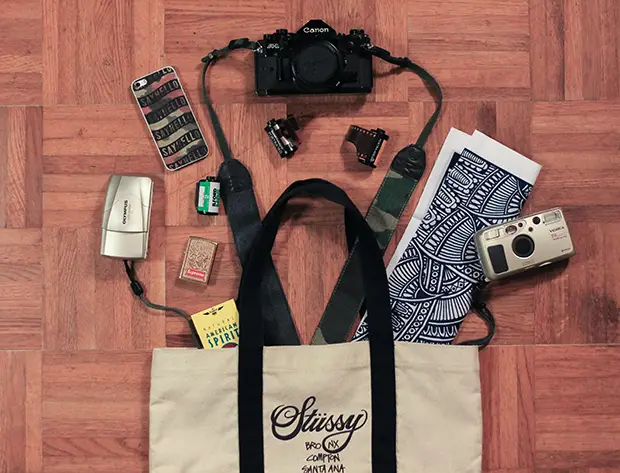 In your bag 1015, Ryan Lau
Ryan has a lovely aloha bag for us today. Bringing a bit of sunshine to you all. Check it out.

Greetings Japan Camera Hunter and friends!
My name is Ryan Lau and I live in Oahu, Hawaii.
During the week I manage the Stussy Hnl shop and weekends get to venture out around the island. I try to mix things up switching between shooting with a model and/or just shooting whatever comes my way. As long as I get through a few rolls I'm happy.
This is my bag for tomorrow. As you can see, I'm not the most organized guy. I throw everything in a tote and just take it from there. I like to switch between my slr and a p&s. They have their little quirks and get different reactions from models. Plus it makes you look like a boss when you have lots of cameras. In this case I have two point and shoots with me. One for b&w, the other for color.
Bag:
Stussy canvas tote (came as a free gift in a magazine)
Cameras:
Canon A1 with a 35mm 2.8 lens (my favorite)
Yashica T4 Super D (my second favorite)
Olympus Stylus Epic Dlx (the other guy, he's chill)
Accessories:
Cigarettes (to smoke)
Zippo lighter (to light said smokes)
Bandana (sweat cleaner, it's hot in Hawaii)
Cellphone (Say Hello)
If you want to see photos, I can be found at the following.
IG: Lyanrau
Web: www.lyanrau.com
Twitter: Lyanrau
– Aloha \mn/
Thanks for sharing your bag with us Ryan. I like the simplicity of the bag.
Check out the links and make sure you come and comment.
Keep them coming folks, we need more submissions, so get your bag on Japancamerahunter.com. Send me a hi resolution image of the bag (please make sure it is horizontal, 720px across is optimal) and its contents, with some details about yourself and what you shoot. Oh and don't forget your contact details (twitter, flickr, tumbler et al). Send the bag shots here. Please understand that there is a long wait now as there is a backlog of submissions. Not all make the cut, so make sure yours is funny/interesting/quirky. And please make sure the shot is of good quality, as the ones that are not do not go up.
Cheers
Japancamerahunter