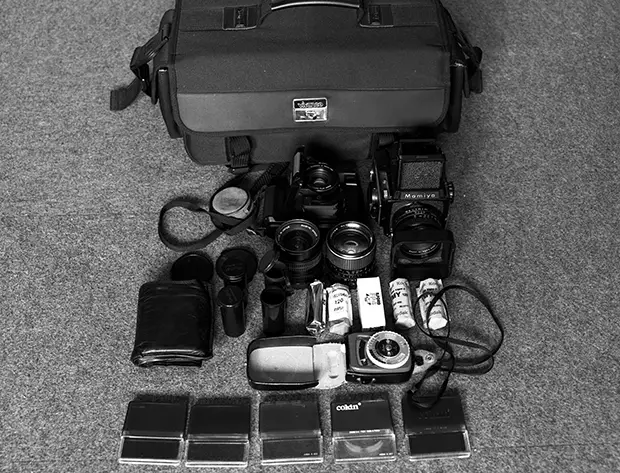 In your bag 1005, Wolfi
For the medium format heads out there, this bag has everything you might need. Delve inside a physicists bag…

So, if it is of interest – here is my bag; I am a physicist working in Medical School here in Vienna, and my field of expertise is actually image processing. Since I am quite occupied with digital images professionally, I prefer analog photography for a hobby. And i love doing prints, which is, for me, the one thing that really makes a difference to digital photography. I mainly do scenic images, and I do not consider myself to be a very high-profile photographer.
However, I learned how to develop and to make prints as a teenager in the nineteen eighties, and at that time, everything that was affordable for a pupil was 135 mm cameras like my old Praktica B100 from former East Germany. Later on, I progressed to some more sophisticated models like the Olympus OM-1 and 2n, which I still have.
In 2000 something I decided to move to the digital age and got myself a Canon DSLR only to find out that I miss the darkroom, and that I actually do not want a pile of images on my hard drive.
So I got a Mamiya 645 1000s on ebay a few years ago, and immediately I was fascinated by medium format. My collection has grown ever since with TLRs, 6×7 cameras and so on – but still the one camera I love the most is my 645 – small, convenient, very versatile and built like a tank. Some say that 6×4.5 is not real medium format – however, I cannot see a difference when doing prints to 6×6, mainly since I usually do standard paper sizes such as 24×30 cm, and therefore all the 6×6 and 6×7 negatives are cropped anyhow.
A while ago I got a Fujica GS645 on a local ebay-type of platform and while I was mainly attracted by the funny look of that little plastic folder from the dawn of the analog age in the beginning, I realized that the one thing that is awesome about this camera is it's lens – I just took a walk home from work and took a few shots on the streets with that one. After development, I saw the outcome and immediately sent it for service to Germany. What I got back was a well lubricated, cleaned and working little rangefinder. So I am stuck again with 6×4.5, and here is what I drag around:
– The Mamiya 645 1000s. While I have a prism finder, a couple of lenses and some other add-ons, I mainly use the 55 mm f2.8, the 80 mm f2.8 and the 110 mm f2.8. I also don't like the prism finder and therefore I am usually happy with the waist-level finder
– The second one is the Fujica GS 645. Smaller than a digital SLR and very handy for taking photographs in portrait orientation as this is it's natural format.
– My wallet, roll film boxes, lens covers and so on.
– A Gossen Sixtar light meter – maybe as old as I am but works like a charm with a cheap adapter that mimics a PX625.
– My favourite films. I am mainly developing using Champion Promicol and after some testing, I found that Ilford PanF, Ilford FP4+ and Kodak T-Max 400 (pushed to 800 ASA) work best for me. I also always have a roll of Ilford SFX 200 and a roll of Velvia 50 at hand.
– A set of Cokin Filters (yellow, orange, red, green and blue). I have no idea while I drag the blue and green with me …
– An old bag for a video camera …
What is missing is the Manfrotto tripod and the cable release, which were necessary to carry the Mamiya RB67 used for taking this shot on Ilford FP4+ …
I do not have a homepage, but once in a while I post scans of my prints on facebook and so on.
yours
wolfi
Thanks for sharing your bag with us, Wolfi. A very interesting selection of gear.
Check out the links and make sure you come and comment.
Keep them coming folks, we need more submissions, so get your bag on Japancamerahunter.com. Send me a hi resolution image of the bag (please make sure it is horizontal, 720px across is optimal) and its contents, with some details about yourself and what you shoot. Oh and don't forget your contact details (twitter, flickr, tumbler et al). Send the bag shots here. Please understand that there is a long wait now as there is a backlog of submissions. Not all make the cut, so make sure yours is funny/interesting/quirky. And please make sure the shot is of good quality, as the ones that are not do not go up.
Cheers
Japancamerahunter