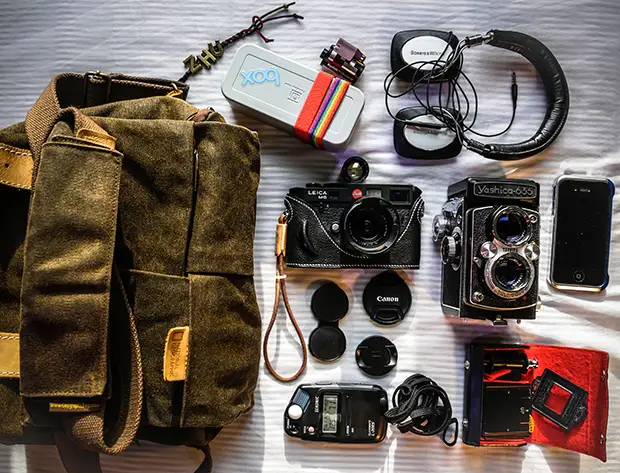 In your bag 1001,Frank Zhu
1001 and we are straight back into it…

Hello Bellamy! I've been a fan of your website and especially the "in your bag" section, which always appeals to my curiosity of what other photographers put in their bags!
My name is Fanchao (Frank), Zhu, a Chinese photographer studying in a US college in Iowa currently. As an analog fan myself, I'm sure my gears will appear interesting to others as well!
In my bag:
Leica M6 TTL w/ Zeiss 35mm lens
I've also attached a 35mm finder with it.
(not that M6 doesn't have 35 frameline, but they have different magnifications)
I found M6 finder easy for composition and the finder easy for assessing distance from subjects on streets and am able to shoot with both eyes open with it.
Yashica 635 w/ 35mm adaptor kit
Still experimenting with it,
I love how it takes both 35 and 120 film.
The finder gives me different type of inspiration.
I like the Gariz hand strap, fits securely at my wrist, although it's a bit overprized…
Sekonic 308S
Use it to compliment with my Leica meter
Moreover, it gives me fast readings on streets.
Film Box w/ TMAX 100 & 400 films.
(Sometimes also use some antique metal film canisters)
Bag: National Geographic, very sturdy, but a bit soft, so I put some extra sponge in it.
Attached with a metallic name tag.
Hope you enjoy it!
My website: http://fzphotos.portfoliobox.me/
(These photos are by my Canon 5D though. Will upload my film photos soon!)
Thanks for reading!
Frank Zhu
Thanks for sharing your bag with us Frank. I have to ask though, it that a bootleg film case? As I have not seen one like that before.
Check out the links and make sure you come and comment.
Keep them coming folks, we need more submissions, so get your bag on Japancamerahunter.com. Send me a hi resolution image of the bag (please make sure it is horizontal, 720px across is optimal) and its contents, with some details about yourself and what you shoot. Oh and don't forget your contact details (twitter, flickr, tumbler et al). Send the bag shots here. Please understand that there is a long wait now as there is a backlog of submissions. Not all make the cut, so make sure yours is funny/interesting/quirky. And please make sure the shot is of good quality, as the ones that are not do not go up.
Cheers
Japancamerahunter