The ONA x JCH bag is officially here
Some of you keen types might have noticed that ONA and I debuted a bag at the recent Photokina Show in Cologne, Germany. So here it is in all of its glory.
The new ONA x JCH limited edition collaboration: The ONA x JCH Bowery camera bag. 
It all started last year when ONA and I came up with the idea of making a bag together. Which was tremendously exciting. After a trip to NYC things really started to come together. Little did we realise it would take so long to get everything just right. But it was worth it as I think we have come up with a bag that is low key yet really solid in the design.
It is a Bowery, but not like you have ever seen before.
Features
The ONA x JCH Bowery features a number of modifications with the film street photographer in mind:
– Matte black solid brass hardware that will wear-in overtime to reveal the brass underneath, similar to the contact points of a vintage black paint camera. 
– Three elastic "bandolier" loops to hold film canisters on the bag strap.
– Two interior slip pockets for filmcases, batteries, or other small accessories.
– A zippered back pocket for additional security.
– An all-black interior.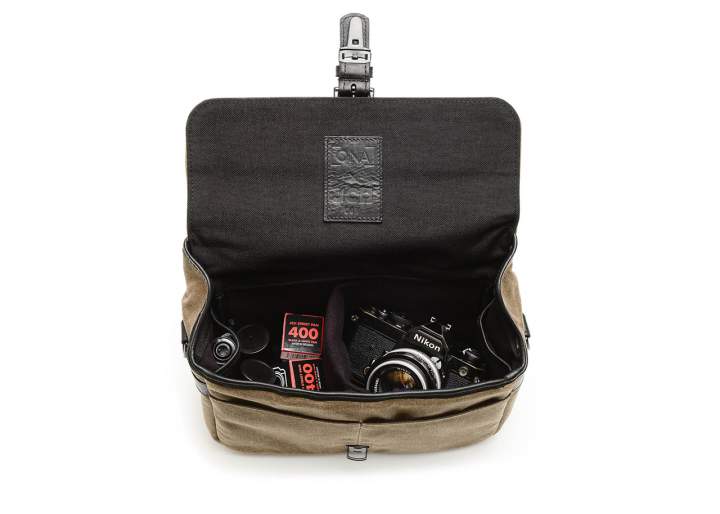 This bag is the result of over a year of working out the finer details with ONA. I wanted a shoulder bag, as I only carry one camera and a few items. But one that is simple, strong and geared towards the film shooter. The ONA Bowery was a great platform to start off with, but it needed some changes to suit my style. 
I hope these little tweaks to the Bowery will really stand out and be beneficial for the users of the bag. I have had so many bags over the years, I wanted to incorporate my needs into a day bag for people that like to keep things simple.
"As longtime readers and followers of Japan Camera Hunter, we knew going in that we shared core values of community, excellence, and time-honored craft," says ONA director of marketing & product development Bryan Mochizuki. "We also expected to take some time to get the details right by Bellamy's standards, and were inspired to make a one-of-a-kind bag that would wear with time like a classic rangefinder."
Only 230 individually-numbered units have been produced worldwide, available exclusively in the US through onabags.com and select retailers in the EU and Australia. A limited number of units are currently available for pre-sale on the ONA site Click here to order yours. 
The feedback we got at Photokina was overwhelmingly positive and people seem to really want to get their hands on one of these. Don't worry if the ONA site has sold out, ask your ONA retailer if they are getting any and reserve yours with them.
Make sure you share your ONA x JCH bag on IG too, we would love to see them in the wild. Tag the bags with ONAXJCH and follow us:
JCH