Gear Review: HoldFast Gear
A few months back Matt of HoldFast Gear was kind enough to let me test out some of his wonderful offerings. I was planning on getting a review out as quickly as possible, but one thing led to another and here we are in the middle end of the summer. Still, better late than never.
I first got a glimpse of HoldFast Gear bags on instagram (HoldFast Gear is here, I am here), when I saw some people shooting with what seemed to be more classic gentleman's apparel than camera bag. This really caught my eye, as in recent times I have become quite indifferent to the utilitarian style of camera bags, and craved for something a bit closer to my personal aesthetic. I like things that are hand made, well crafted and designed to last a long time. And that was my immediate impression when I got to feel the quality of these beautiful bags.
The first bag I have been using for longer trips is the beautifully crafted Roamographer. For me this bag was love at first sight. It looks classic and very much like a gentleman's travel bag from a bygone era. I can imagine carrying this and pulling out my pocket watch to check the time of the next locomotive engine. The leather is rich and the smell of the bag alone is enough to draw you in.
But it is the subtle details of the bag that really set it apart. The branding on the side of the bag, the well fashioned buckles, nothing is out of place. I particularly like the rigid hinged opening for the bag, it reminds me of the doctors bags when a doctor would travel to his patients. The interior lining of the bag is a lovely pinstripe, with a modern modular padded section for your gear.
The bag itself is spacious and can hold a couple of bodies and a couple of lenses. I actually usually only carry one body and one lens, so this might be a bit much for me on a daily basis. But this is not a daily bag really, at least not for me because I like to keep things very simple. But I can imagine there are plenty of people who would carry this around all day.
This bag is not a lightweight on its own, and when you have a few bits in it, the bag becomes pretty heavy. Good job there is a lovely cushioned wool shoulder pad, unless it is 37c outside!
In my opinion this is an excellent choice for a short or medium haul trip, or maybe a good road trip. It carries all I need for my photography. And it really looks the part too when you are sitting in the airport lounge sipping a cool and refreshing beverage. This is a gentleman photographers bag and as such there is no space for your new fangled laptop difference engines.
Make no mistake though, this bag will cost you a pretty penny, you are going to have to fork out over $500 for one of these bags. But considering it looks like it will get a lifetime of use, I consider that the be a sound investment on a very dapper camera bag.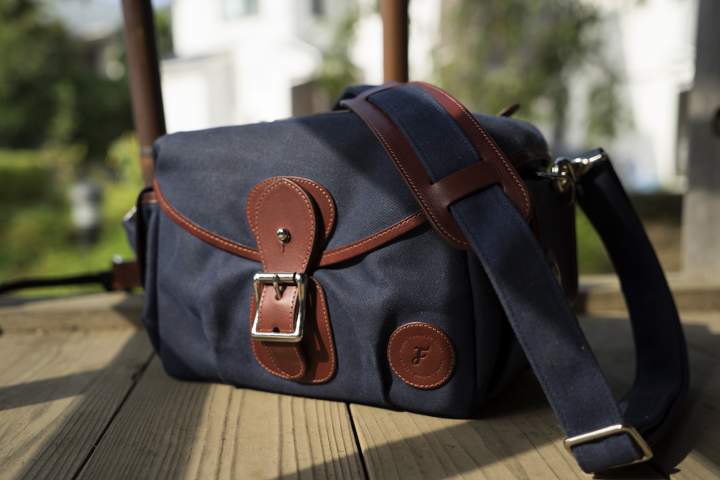 The second bag I got to mess about with was much more suited to my daily tastes. This is the HoldFast + Fundy Streetwise bag. In a collaboration with Andrew (Fundy) Funderburg, they have come up with a smaller bag that is more accessible for day to day shooting. This is a much more lightweight bag and with the quick release opening tab it makes for easy and quick access to your gear. This is a much smaller back and suits a body and a couple of lenses. Or if you are me a body, a bunch of film and various nicknacks, sweet wrappers, lost business cards, assorted keys and a leaky vape.
An interesting point for me is the sheepskin interior. Not the first choice I would think of when deciding on an interior for a bag, but it is apparently the best natural organic padding there is, which suits my clumsy nature just fine. The canvas exterior looks like it will age well and gain some nice rubbing marks. This one does look more like a traditional camera bag, but it still oozes class.
One of the really cool things about this bag is that it is modular and fits together with other HoldFast Gear pouches and accessories, so that you can make a system which is suitable for your needs.
Personally I don't like to carry a lot of large lenses, or large cameras for that matter. So some of the pouches and straps are not really suitable for me. But I really do like the Sightseer lens pouches, as they can be used for not just lenses, and they look really good. Especially inside, with a nice padded Aztec pattern. I found that the smaller Sightseer pouch is the perfect size for a Contax T2, and now mine permanently resides in there. I feel really confident with the pouch, it has good padding, will keep the rain out and is not going to fall of my bag as it is really securely attached.
In my line of work I get to see a lot of bags, straps and all the others, but it is not often that something really catches my eye and makes me want it instantly. But that was how I felt about HoldFast Gear. It just looks so damned good. I know some people are going to be perhaps upset by the prices, but I really believe you get what you pay for and nothing about these bags suggests to me they are too expensive. The quality of the work is exceptional and the design is well thought out. These bags are worth every penny.
I am really into handcrafted gear, as you can probably ascertain from this post and this site in general. But it really pleases me to see people putting their passion and hard work into something and getting it out there. Matt Swaggart has really out a lot into his gear and it really shows. He actually sent me a bunch of straps too, including the famous Money Maker Straps, that I promise I will review just as soon as I can.
Check out HoldFast Gear's site and social media too, they have a really great community and some stunning gear. And get yourself a dapper bag, you know it makes sense.
holdfastgear.com
Facebook
YouTube
Instagram
Twitter
JCH