In your bag No: 675, Thorsten von Overgaard Pt: 1
Now this is a bag post I have been after for some time. I asked Thorsten to do this a while back and I know that being and international man of photography he is very busy, so I a really pleased that he has been able to put a bag post together for us. And what a bag post…

Thorsten von Overgaard is a Danish writer and photographer, specializing in portrait photography and documentary photography, known for writings about photography and as an educator. He travels to more than 20 countries a year to do assignments and teach workshops.
Normall I don't do intro's to the bag shots, but this one is so big that I felt it needs to have some info with it. Thorsten has very kindly shared with us his many bags. In fact, there are so many that I have had to break this into two posts, the other will be up tomorrow. Now, over to Thorsten…
Here are my photo bags!
The bags them self are an important part of my "What's in Your Bag". I love bags and the quality of a bag is usually judged on the inside details. How well thought out the aesthetics are, and the durability. Only the owner sees the inside, so that is usually where the shortcuts and shortcomings are visible. Louis Vuitton has made bags and suitcases for travelers for 159 years, and they are made practical and indestructible for people who move a lot. I am well aware that is it also a luxury brand, and I guess that is what makes it perfect for me: Luxury that is practical and indestructible, with a well-tested idea behind it. I had too many suitcases destroyed to keep buying cheap bags.
Goyard is another brand that has been in the business of making trunks and bags for 221 years and offers the same quality and price range. Other than that, I only know of Billingham who has made bags for 40 years that last a lifetime of rough use. I have a few of those as well.
My traveling always consists of one bag with cameras and one bag with computer gear.
I thought about showing the suitcase as well, but decided you will have to see the video interview on 33avenue.com "What's in Your Suitcase, Thorsten von Overgaard..?" to get a glimpse of that. You can see the video by clicking here.
The travel bag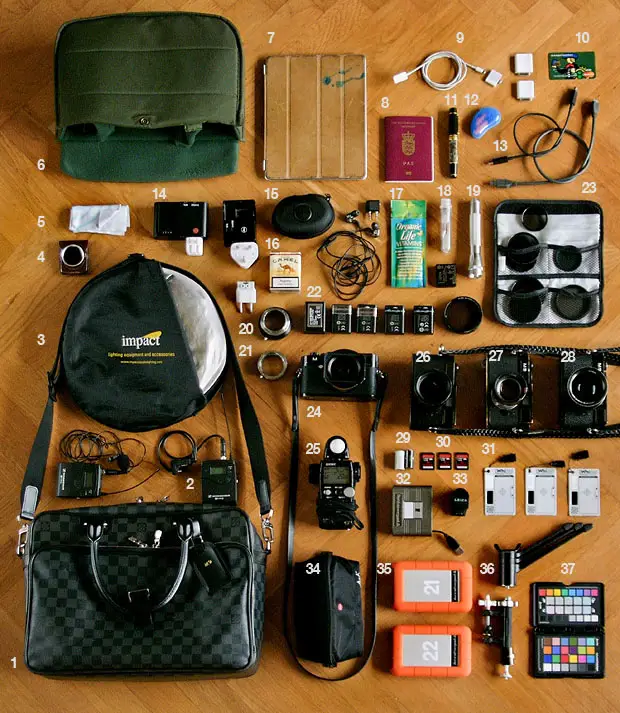 This bag is for travel, and actually, having all the content spread out made me realize just how great it is to have one bag where everything is stored. Each bit has it's own place in the bag, no matter if I am home or in a hotel room.
It's a weekender bag made into a camera bag with a Billingham insert after I saw Pieter Franken in Tokyo had this bag as a gift from his wife. I stole the idea!
The Goyard Ambassade bag is similar size and would be an alternative, as would the Billingham Hadley Pro, which the insert is taken from.
Usually when I travel, I have the camera across the chest, also through airport security and on airplanes. In cars the cup holder is great for holding the camera (and extra lens in another cup holder).
1. My Louis Vuitton iCare bag is instrumental in remembering all parts and traveling with them as hand luggage. It can also fit a laptop but I prefer to have that in a separate carry on bag.
2. Sennheiser wireless microphone kit EW112 for doing video with the Leica M240.
3. Reflector in 60cm diameter (2 feet). This size reflector fits anywhere a laptop fits and is exactly right for portraits. In my car I have a couple of much larger, but for travel this is the only one I bring
4. ND-filter 2-stop in chrome for the old chrome 50mm Summicron. In it's own leather bag for sentimental reasons.
5. Microfiber clothe for cleaning the lens and camera.
6. The insert for the bag is a Billingham Hadley Pro insert. It can be taken out of the Billingham bag and they also sell them separate. The key in this one is that it is closed in the bottom, so you can move the insert with lenses and cameras to another bag. The Artisan & Artist insert is red and way more sexy, but it is not sealed in the bottom, so I prefer the Billingham.
7. iPad … it's a matter of time before it leaves me. But so far I have been traveling with it and have for example all manuals on it, also for cameras I don't use but others might use and have questions (for example how to do double exposure on a Leica M3).
8. Backup passport.
9. Charging cable for iPhone. USB and SD-card converts for the iPad (never use them but they are in the bag).
10. I have a backup Mastercard in every bag in case I should lose my wallet. Standing in Shanghai without money and cards … would be a nightmare.
11. Mont Blanc Alexander Dumas fountain pen.
12. Earplugs for working in front of stages.
13. Thunderbolt and USB3 cables.
14. Chargers for M9 and M240, as well as an Apple Travel kit of plugs. I have one set of chargers in this bag, and another set in a suitcase. If the suitcase is delayed, I can still charge, and when everything has arrived, I can charge four batteries at a time
15. SHURE ES535 in-ear headphones. I use them in planes as they isolate 80% of the sound and music sounds amazing with three speakers.  With iPhone controls on the cable and airplane converter.
16. Cigarettes without filter. Hard to find in many countries, so I bring them from Denmark.
17. Dr. Price's Organic Life Vitamins daypack in liquid form. They are very practical because the envelope fits anywhere and doesn't smell of vitamins. I take CalMag every night and vitamins every day.
18. Toothbrush. One of the greatest things after a long flight is brushing your teeth!
19. Flashlight.
20. Leica R-to-M adapter that I have just in case someone wants to see it. I don't use R lenses on the M240, unless for specific video needs.
21. Leitz OUFRO adapter that makes any lens on the M240 into a macro lens.
22. One extra battery for the M240 and a total of four batteries for the MM and M9 cameras. The M battery will usually last for 6-7 hours, so one extra is enough. The M9 and MM runs almost the same time on a battery, so two batteries per day for one photographer is enough. One spare battery for the Leica D-Lux 6.
23. My wallet with ND-filters for all lenses, plus a few extra sizes in case some of my students don't have a ND-filter. To the left of the wallet is B+W Filters' variable ND filter 0.5 – 6 stops for the Noctilux (62mm + a 60-62mm step-up ring).
24. I try to cut down on cameras and mainly use the M240 now. So in reality I could travel with one, but have extra cameras in case someone in my workshops needs to borrow one. Leica M240 with Leica 21mm Summilux-M ASPH f/1.4. The strap I use currently is the black leather strap that comes with the Leica M Monochrom. The length is good and the design simple.
25. Sekonic L-758 DR lightmeter. I would recommend any lightmeter that was smaller, but I've gotten used to this one and stick with it. But it's too bulky!
26. Leica M Monochrom with Leica 90mm APO-Summicron-M ASPH f/2.0. Annie Barton 1972 braided leather strap in matte black.
27. Leica M9 with Leica 50mm Summicron-M f/2.0 (Version II). The camera strap is the Artisan & Artist 252 I have used since 2009 on this camera. Simple, soft and thin.
28. Leica M9 with Leica 50mm Noctilux-M ASPH f/0.95. Annie Barton 1972 braided leather strap in gloss black.
29. Spare batteries for the Sekonic lightmeter. It usually always runs out of battery in the desert or the middle of the night. So extra batteries is a must.
30. Backup SD-cards.
31. WhiBal greycards for white balancing.
32. Backup SD-card reader in case the one in the computer goes bust.
33. EVF-2 for the Leica M240.
34. Artisan & Artist Rhina Bag for one camera.
35. LaCie 1TB Rugged Thunderbolt/USB3 hard drives. They have numbers so I can tell which is what.
36. Leica mini tripod and vintage multi-pod. This is part of the video setup in case I do videos with the M240 or D-Lux 6. It doesn't make much sense using a compact Leica M 240 if you have to travel with a big tripod, so I have made it a point having the most low-tech and compact tripod gear possible.
37. X-Rite Color Passport. Just in case though I don't use it a lot.
The computer bag
Computers and hard drives are the other half of digital photography, so my computer bag goes with the camera bag but holds no cameras.
1. This limited edition orange Louis Vuitton leather bag (Porte Documents Voyage) takes a lot of beating and is often overloaded with water bottles, jackets, newspapers and stuff. It has 10 pockets inside, plus two pen holders.
2. I have a small 16GB memory stick attached to the zipper of the bag. Just for small transfers whenever it is needed.
3. Apple MacBook Pro 15″ Retina.
4. LaCie 1TB Rugged Thunderbolt/USB3 hard drives. They have numbers so I know which is what. I travel with up to five of them:
a) One for offload from the computer + one for backup of that.
b) Two drives with the latest months of work so if a client calls for a file; I can handle it no matter where I am.
c) One for music and film.
5. Charging cable for iPhone, plus Thunderbolt and USB3 cables for harddrives.
6. SHURE ES535 in-ear headphones. I use them in planes as they isolate 80% of the sound and music sounds amazing with three speakers.  With iPhone controls on the cable and airplane converter.
7. Backup Mastercard.
8. Angry Bird loudspeaker. Just because.
9. Mont Blanc Ramses II fountain pen and a backup pen.
10. Passport.
11. Cigarettes without filter. I love smoking.
12. Business cards.
13. Microfiber cloth for cleaning the glasses, lenses and cameras.
14. Persol prescription glasses for screen work.
15. Dr. Price's Organic Life Vitamins daypack in liquid form. They are very practical because the envelope fits anywhere and doesn't smell of vitamins. I take CalMag every night and vitamins every day.
16. Chewing gum.
17. Matches in case I run out of gas on the lighter.
18. MacBook Pro charger with Apple Travel Kit of plugs. Important to have with the computer if you need to charge on a plane or in an airport. You never know which plugs they take. I have a small Lufthansa bag for it all so it doesn't get lost.
Thanks to Thorsten for being such a good sport. He has really raised the bar in terms of detail and information. I have never seen anything like it. Tomorrow will be just as good, I can assure you.
Check out Thorsten's links and please come and comment:
Website
Leica Pages
Twitter
Facebook
Tumblr
Keep them coming folks, we need more submissions, so get your bag on Japancamerahunter.com. Send me a hi resolution image of the bag (please make sure it is horizontal) and its contents, with some details about yourself and what you shoot. Oh and don't forget your contact details (twitter, flickr, tumbler et al). Send the bag shots here. Please understand that there is a long wait now as there is a backlog of submissions. Not all make the cut, so make sure yours is funny/interesting/quirky. And please make sure the shot is of good quality, as the ones that are not do not go up.
Cheers
Japancamerahunter