The JCH Tokyo Camera Shopping Guide (Updated for 2022)
It's the biggest understatement ever to say the last couple of years have been…disruptive. But Japan is finally fully reopening and that means tourists can visit without a visa and no longer need to go through a travel agency. Plus, the daily entry cap will also be lifted entirely. The doors are open again so it's high time to update the JCH Tokyo Camera Shopping Guide for 2022. Unfortunately some stores haven't survived the pandemic but there are couple new or renovated ones so this is the most up-to-date list for you all with mad GAS.
So, you want to know where to buy a camera in Tokyo? This might help.
I get a lot of people asking me where to go shopping for a camera in Tokyo. Although it is my business to buy for people, I also want people to come and see Tokyo for themselves.
Tokyo, a metropolis of 14 million people, has often been described as a Mecca for shopping, and this is most certainly true if you are looking for a camera. Whilst there are the big mega stores like Bic and Yodobashi, I am not interested in telling you about them. What I am here to tell you about are the smaller stores, the specialist places and the places that will make your jaw drop.
I have met many people in Tokyo who have been shopping and have found what they need thanks to these guides. I am really happy to have people find what they want and have a nice time doing it. So if you are in Tokyo, or coming to Tokyo this camera shopping guide should help you find something.
People may cite certain omissions but they were overlooked for a reason. Be it prices, quality, rudeness or straight up plain shadiness, this guide is an attempt to steer you clear from that and give you a pleasant camera buying experience in the capital of the land of the rising sun.
The guide itself will be divided into two parts, westside and eastside. Without further ado, scroll on down to get all the information you need to research and plan your hunt.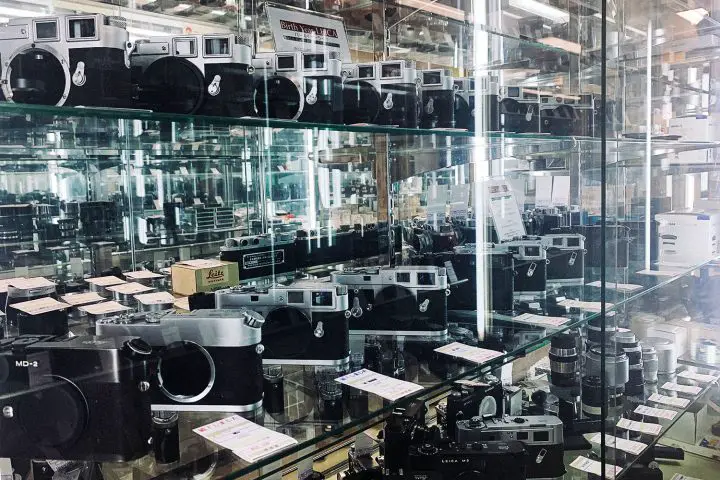 Buying Rules
This is a subject that is close to my heart and something that I want to express to you all before you go shopping in Japan. The Japanese society is heavily governed by an unspoken set of rules, and one of the big ones is manners. In Japan manners are very important and they will make a difference in the way you are treated by shop staff.
In many countries the customer is king, but in Japanese camera shops you are merely someone who is interested in their fine wares, and if you don't show them respect then will not show any to you. It can be quite an old fashioned atmosphere which may seem daunting, but it is worth taking you time as you will find things here that you cannot see anywhere else.
The rules that I have set for myself are quite simple and they may help you too:
Greeting A pleasant "Konnichiwa" goes a long way, even if you get no reply. Always say hello and goodbye.
Touchy feely Want to look at something? Then ask politely. Don't point and grunt, apes do that. And don't just grab at things, that is going to make people mad.
Quiet please Be quiet in the shop. Which means switch your phone to silent mode, don't talk on the phone, don't jabber to your mates, do take your headphones off. Watch the other customers, they will give you an indication of how the store expects you to behave.
No drinks  You wouldn't believe how many people I have seen roll into a camera shop with a cup of coffee in one hand. It is a camera shop, they don't want a stumbling oaf making a mess of their lovely counters and cameras. Same goes for food obviously.
Don't ask  Don't ask for discounts. A lot of these camera stores are small and they are trying to make a living, asking for money off is not really fair on them. If you have never been to a store before and you ask for a discount you are being rude to them. If you go a few times and show your manners they will offer you one without you having to ask. Be patient and be polite. The big stores will not give you one, no matter what.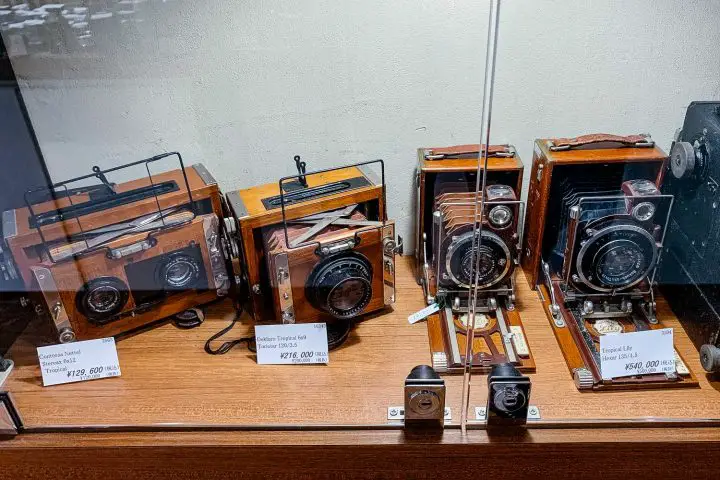 Camera Shopping in Tokyo – Westside 
Here is an overall map of the best of west. Go on to here for more details about each shop:
japancamerahunter.com/2012/04/camera-shopping-in-tokyo-pt-1-shinjuku
Camera Shopping in Tokyo – Eastside 
Here we have an overall map of the eastside's finest. Go on to here for more details about each shop:
japancamerahunter.com/2012/04/camera-shopping-in-tokyo-pt-2-ginza
Notes on travel
If you are coming in the summer be prepared for it to be insanely hot and humid. Stay hydrated and carry a hand towel with you, you will definitely need it. Silica gel in the bag wouldn't hurt.
If you are coming in the winter be prepared for it to be bitterly cold. The light will be amazing though, very bright and beautiful golden hours.
Carry cash, it is a very safe city. ATM's can be problematic (language or availability) so always have some cash, though it has got better in recent years. Often stores will offer a discount for cash too. Money talks.
I hope this makes things a lot easier for you all and that you have a fantastic time if you are coming to Tokyo. Shoot, eat and enjoy.
JCH