Camera Geekery: Nikon S2 with Nikkor-S 50mm f/1.4
A great review from guest writer Leonard Goh. The S2 is a classic rangefinder that is a great experience to use. Let's let Leonard tell us about it.

Review: Nikon S2 with Nikkor-S 50mm f/1.4
Opening note: While I have been lurking about this site for a very long time, and wish that I could buy something from Bellamy, I haven't done so. Feeling a tad guilty about it, I decided to reciprocate by writing a review of the Nikon S2, which I find to be a truly amazing rangefinder camera.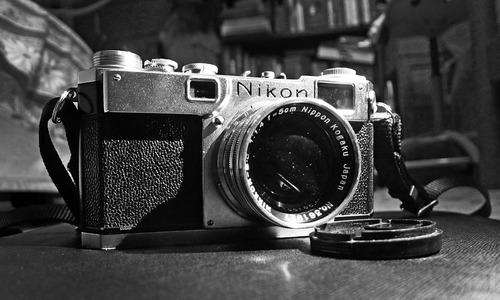 The Nikon S2 is the Japanese company's best-selling, and most-produced rangefinder camera with approximately 56,000 pieces rolling out of the factory since its inception in 1955. The S2 succeeded the Nikon S, which was fundamentally built upon the early Contax rangefinder cameras, so much so that even the lens mounts between the two systems are the same.
Like most rangefinder cameras built during that era, the Nikon S2 has a solid heft to it, and you could tell that an amazing effort was put into making the S2 a "tank". It has an almost full-metal construction, save for the use of plastic for some components such as the skin of the camera.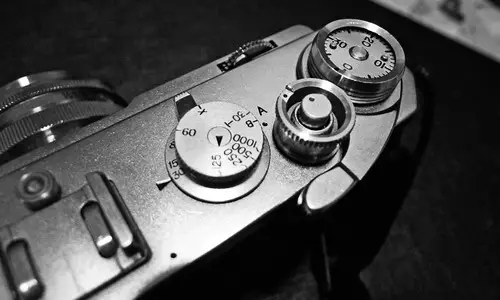 The top deck of the Nikon is rather minimalist. The shutter speed dial is split into two layers. The one at the top is reserved for faster shutter speeds, while the one below it is meant for speeds that is 1/30th of a second or slower. In order to activate the slower shutter speeds, you will need to turn the top dial to 1/30. This may seem cumbersome by some, but it's only a matter of getting used to. I found it really easy to adapt.
The hotshoe has no contact points, and is mainly for fixing a flash unit that can be connected to the X-sync port located on the left of the shooter.
Some features of the Nikon S2 later made their debut in Nikon's first SLR, the Nikon F. For example, the removable back of the camera to load film, as well as the A/R (advance or rewind) collar that surrounds the shutter button.
Focusing can be done via two methods. Either turning the lens manually, or you can also spin the toothed wheel that is at the front of the camera. This is commonly known as helical focusing, which means the lens is rotated to focus via the camera body, and the lens elements don't rotate to focus. This is great for one handed operation of the camera (only when you have the shutter speed and aperture fixed), since you can hold the camera up to your eye, focus and click the shutter button all with one hand. For a man who's holding his wife's shopping bags like me, it's a god-send.
The 1:1 viewfinder is also wonderful for focusing with both eyes opened, something which even modern rangefinder lacks. One thing to note, however, is that the Nikon S2 viewfinder windows provides a 50mm field-of-view with no framelines for lenses of other focal length. So, if you attach a 35mm lens on it, you will definitely need an external optical viewfinder.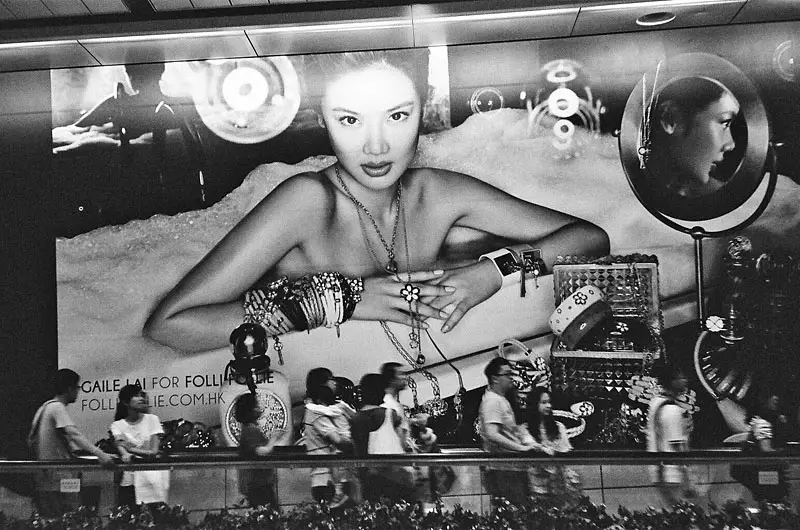 One little rant I'll like to make with regards to the S2 is the fact that you need to manually reset the film counter when you load a new roll of film. Also, if you are thinking that the S2's shutter sound will be silent like Leicas, you'll be wrong. While it's not as loud as a SLR, the S2's shutter is definitely noticeable and jarring in a quiet environment.
There is no exposure meter on the S2, so you can either use the Voigtlander VCII meter or like me, who uses Tri-X, gauge the exposure values required.
All in, the S2 is a great body if you are looking to acquire a Nikon rangefinder camera. However, it may be tough to find one is a good working and exterior condition. Bellamy is selling off his personal set, too, and I'm sure he won't be selling a banged up unit. Lenses are pretty scarce these days, but I'm sure Bellamy can source for a few nice pieces. I'm looking to get a 35mm for it in months to come.
The Nikkor-S 50mm f/1.4
The Nikkor-S 50mm f/1.4 is a lovely contrasty lens. I am not able to comment on its color reproduction, since I have only shot with B/W film with it so far. The copy that I have is almost flawless optically, and visual inspection shows that the coating is still on. The lens is a tad contrasty, but the sharpness is unbelievable for an optics that is so old. While I won't go to the extent and say that it is sharper than a Leica Summilux-M 50mm of the same era, it is definitely comparable. The "bokeh" on the Nikkor-S 50mm f/1.4 however, isn't as smooth as a Leica, but I am sure this won't be an issue for most people.


It has a 43mm front diameter, so getting filters and generic lens cap for it might be a problem. I managed to sourced for mine in Hong Kong at good prices. The construction of the lens, like the body, is a solid piece of work.
I have read online that the Contax lenses can be used for the Nikon S2 as well, though some lenses won't be able to focus accurately due to the different construction. Voigtlander issued some Nikon S lenses a few years ago, but has since discontinued it. It may be hard to find additional lenses for your Nikon S rangefinder camera, but I'm quite sure there are many great units in Japan that Bellamy can find for you.
Parting note: It's been a long time since I used a camera that made me fall in love with taking photographs again, but the Nikon S2 with the Nikkor-S 50mm f/1.4 did it. Solid construction of the body and lens, together with relatively user-friendly operation makes this a great shooter especially if you are into Nikon rangefinder cameras.


About Leonard Goh
Leonard is a business manager for a German camera manufacturer, and is based in Singapore. He shot for Singapore's largest English papers, and has also done editorial and commercial work before stepping into the corporate world when he realized that he would rather keep his passion for photography and putting bread on the table separately. You can follow him on Twitter at http://twitter.com/gohleonard or find him on Facebook at https://www.facebook.com/leonardgoh
Images are courtesy of Leonard Goh and may not be used or reproduced without permission.
Thanks
Japancamerahunter