The aesthetics of non aesthetics – Jerome Arfouche
5 min read
Another strong piece by Jerome Arfouche
In a continuation of his submissions for this site, Jerome Arfouche talks to us all about the the aesthetics of non-aesthetics. Please comment and share your thoughts.

The aesthetics of non aesthetics
Today I would like to compare two very different photographs to try and explain something I've learned recently, something I like to call the aesthetics of non-aesthetics.
First, a photograph by Paolo Pellgrin.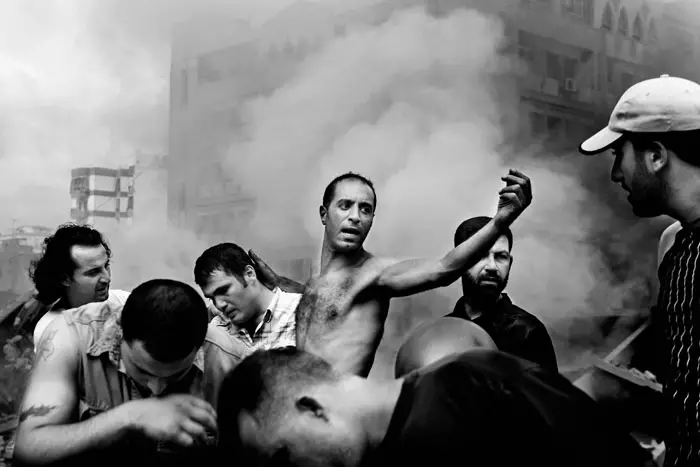 Paolo Pellgrin
This is a photograph from his book Double Blind (an excellent book by the way) about the Israel-Lebanon conflict of 2006. There is no caption about this particular photograph in the book, we see a man, perhaps injured, perhaps calling for help, his extended arm and eyes ushering someone beyond the frame.
This is a modern and classic photograph at the same time. Modern in the framing and composition, but classic in aesthetics.
Now a photograph by Martin Parr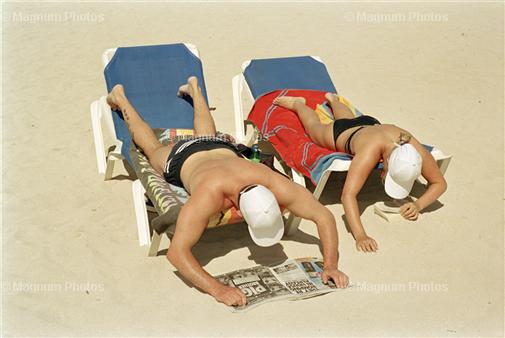 Martin Parr
This appears to be a very simple photograph, a couple sitting in the sun on a sandy beach, nothing else around them. This is a very modern photograph, both in composition and aesthetics.
Before I go through a highly uneducated critique, let me expand a bit on today's topic.
Lately I have seen a great interest online in groups like HCSP on flickr, closeup flash street photography by Eric Kim and Charlie Kirk to name a few and the in-Public collective. I have to admit I was not particularly drawn to these photographs at first, however I made it a point to try and understand why this type of street photography generates so much interest.
My explanation is, briefly put, that these photographers were simply trying to break from another photographic tradition and this was how they showed it.
Any art form goes through periods of a certain dominant form of "accepted" aesthetics, by critics, by the public, by artists themselves. People adhere to a movement and that movement lasts until another group of people venture to propose something new and different. As creativity progresses, it becomes more daring, and it takes increasingly radical twists at every turning point trying to differentiate itself further.
It is well known that Pablo Picasso had exceptional talent for drawing very lifelike objects and reproducing scenes with a high degree of realism, yet that didn't interest him, instead he sought novelty by challenging what was considered a well established convention, that painting had to resemble reality to some point.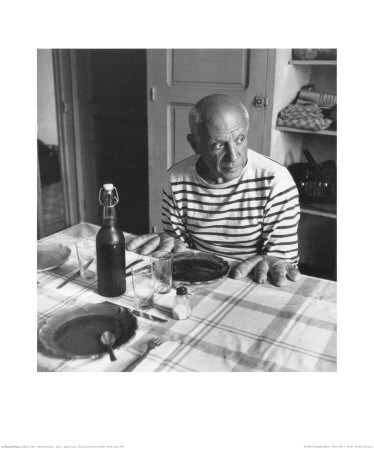 "Picasso by Doisneau, "It took me four years to paint like Raphael, but a lifetime to paint like a child")
Today one of the major themes of the postmodern philosophy is that everything has already been done so therefore there is no real and unreal anymore because everything is subjective. Although it is increasingly difficult to be truly original today, that vision is obviously highly intellectualized. So how does all this philosophical babble relate to photography ? Who cares about these things and why can't we just simply continue to make what we know how to make ?
I believe the new movement of photography today is one where there is a shift in focus from aesthetics to meaning. Why, after all, does a photograph have to look pretty and appealing ? Some photographers, perhaps photojournalists or other media professionals are more interested in the communication aspect of photography rather than the visually attractive aspect.
Let's go back to our photographs and start with Pellegrin's photograph. The composition is a rich, multi-subject interaction, there are many things happening in the frame. But essentially we can see the classic tradition of photojournalism surface. It is a black and white image, with a strong dramatic component, in the gestures, the worried faces and the smoke in the back. The light is diffusing through the smoke falling on the man's naked torso almost like a renaissance painting. Pellegrin's objective is undoubtedly a dual purpose, to make a beautiful looking photograph and to document a moment in war.
Let's look at Parr's photograph. It is so simple he leaves no doubt as to what he wants to talk about. There is nothing in the frame to distract from the couple laying down. It is a simple centered composition, full color but with no excess, no extra aesthetic feature, what he saw is what we get, direct communication from his reality to our hands. What Parr is trying to say here is, forget beautiful aesthetics, I don't care about pretty looking pictures, I have a more important thing to say, I have a message to get through. He wants to show us his vision of a very modern world. This photograph was taken in Spain, a common holiday destination for British tourists who have been a central subject to Parr's work. He might be trying to say, this is what I think the British do today.
(photo here, http://www.flickr.com/photos/simonpaulkossoff/5815870126/in/pool-94761711@N00/, "Simon Paul Kossof, HCSP flickr") on Flickr Parr is one example, when I look at photographs from the Hardcore Street Photography group for example, many are done in a similar style, full color, simple compositions, more communicative and observant than visually
stimulating. There is a new aesthetic to these photographs, a new and properly identifiable look to them, a rational aesthetic that refuses classically established conventions like traditional BW street photographs, objective documentaries, or even poetic and visually attractive photographs. These photographers also take to new tools to go down relatively unexplored territory, like flash photography or juxtapositions.
Perhaps what I'm trying to say sounds like a very complicated version of "to each his own" and to many of those who appreciate this style it probably came naturally, but it took me some time before I was able to understand some of these photographs and the idea behind them. And like I mentioned at the beginning, I have no formal background in art so I could be completely off the mark in my analysis, all comments welcome :)